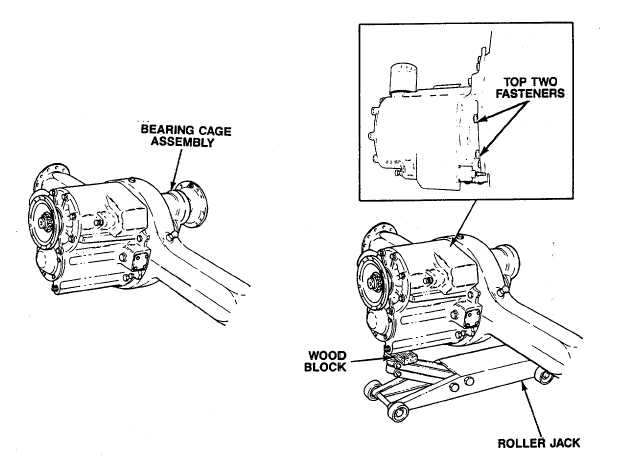 TM 5-4210-233-14&P-1
5-43.  FORWARD TANDEM AXLE AND DRIVE UNIT-Continued
b.
Disassembly
.
(1)   Remove drain plug (1) and drain lubricant into a suitable container.
(2)   Remove four screws (2) and washers (3) and remove output shaft bearing cage assembly(4).
WARNING
Serious injury could occur if heavy equipment is moved/lifted
without sufficient personnel to do the job.  Use proper physical
lifting procedures or use a suitable lifting device or dolly.  Wear
safety shoes, gloves and other suitable protective clothing.  Area
should be clear of other personnel.  Serious injury or death can
result from falling objects.
(3)   Place a hydraulic roller jack under the differential assembly housing (5) to support it.  Remove all but
the two top carrier mounting screws (6) or nuts (7) and washers (8).
(4)   Loosen but do not remove two top screws.  The screws will support the assembly in the housing.
(5)   Loosen the differential carrier assembly (9) in the housing by tapping with a leather mallet around the
differential carrier housing (5) mounting flanges.
(6)   After the differential carrier assembly (9) has been loosened, remove the two top screws and washers.
Carefully remove the differential carrier assembly (9) with the hydraulic roller jack.  Use a pry bar with
around end to help remove the assembly.
5-287