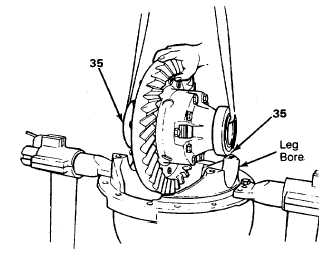 TM 5-4210-233-14&P-1
5-42.  REAR TANDEM AXLE AND DIFFERENTIAL-Continued
(28)
Install the differential assembly in a vise with soft jaws.  Install the resistance tool in the differential
to mate with splines in the spider.
(29)
Use a torque wrench to rotate resistance tool.  Rotate tool and read the torque value on torque
wrench.  Rotating resistance should be a maximum 50 lb ft (67.8 Nm).
(30)
If rotating torque exceeds specifications, disassemble the gears and check for any problem that
causes torque to exceed specification.  Repair or replace any parts that could impede rotating
resistance.
(31)
Assemble parts and again check rotating resistance.
(32)
Apply axle lubricant to inner diameter of bearing cups (35) and bearing cones (19).  Install bearing
cups (35) and bearing cones (19) on differential case assembly (37).
WARNING
Serious  injury  could  occur  if  heavy  equipment  is  moved/lifted
without  sufficient  personnel  to  do  the  job.    Use  proper  physical
lifting procedures or use a suitable lifting device or dolly.  Wear
safety shoes, gloves and other suitable protective clothing.  Area
should be clear of other personnel.  Serious injury or death can
result from falling objects.
(33)
Install adhesive to bearing bores of carrier bearing caps (36).  Attach a strap to differential case
assembly and, using a lifting device, lift differential case assembly (37) into position on carrier (38).
5-273