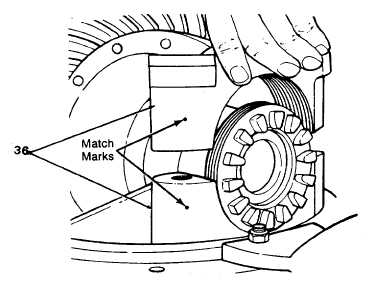 TM 5-4210-233-14&P-1
5-42.  REAR TANDEM AXLE AND DIFFERENTIAL-Continued
(34)    Install both adjusting rings (3) in legs of carrier. Install bearing caps (36) over adjusting rings and
bearings.  Align match marks on bearing caps (36) and carrier (38).
(35)    Tap bearing caps (36) into position with a leather or plastic hammer.  Do not force bearing caps (36)
into position.
(36)
Install four washers (5) and screws (4) to secure bearing caps (36) to carrier.  Torque screws to 150
to 190 lb ft (203 to 258 Nm).  Tighten the screws (4) by hand four to six turns and then tighten to
specified torque.
(37)
Adjust preload of bearings.
(a)   Attach a dial indicator so that the plunger pointer rests against the back surface of the ring gear
(18).
5-274