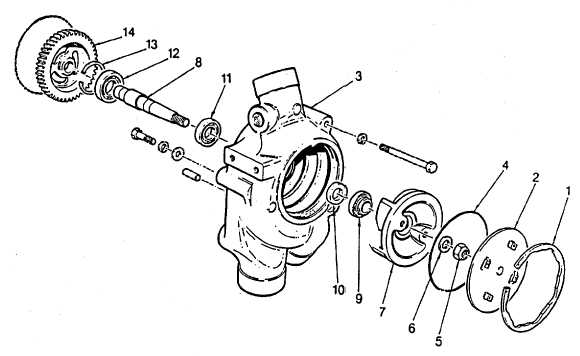 TM 5-4210-233-14&P-1
5-25.  WATER PUMP - Continued
(16)
Make sure "Y" drain passage in housing is clear of any obstructions.
(17)
Examine bearings for corrosion, pitting and freedom of movement.  Replace bearings if any found
faulty.  Always replace both bearings.
e.
Assembly
.
(1)
Lubricate bearing bores and shaft bearing surfaces with motor oil (Item 20, Appendix E).
(2)
Press bearings (11 and 12) on shaft (8) using gear and bearing installer.  Press only on the inner
races during installation.
(3)
Support pump body (3) on press bed with cover side down.  Press shaft andbearing assembly in
place by applying pressure on the outer race of the large bearing (12).
(4)
Install bearing retaining ring (13).
(5)
Inspect water pump driven gear for damaged teeth.  Replace as required.
(6)
Inspect water pump drive gear on engine for possible related failure.  Refer to General Support
Level if necessary to replace drive gear.
(7)
Position gear installer on impeller end of shaft (8).  Press gear (14) on shaft so it is flush with end of
shaft.
5-169