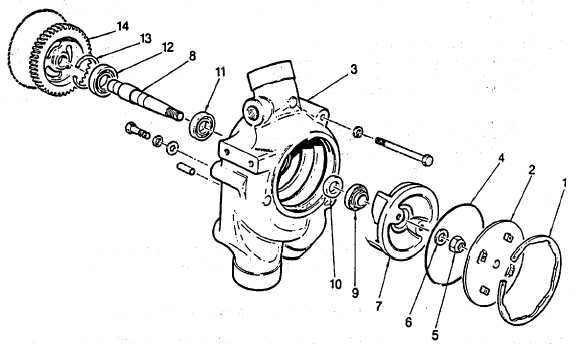 TM 5-4210-233-14&P-1
5-25.  WATER PUMP - Continued
d.
Disassembly
(1)   Clean water pump, if necessary, with pressure hose to remove both internal and external dirt and
grime.
(2)   Position water pump drive gear in soft jawed vise.
(3)   Using snap ring pliers, remove snap ring (1) retaining pump cover (2) to water pump housing (3).
(4)   Remove impeller Locknut (5) and washer (6).
(5)   Using puller, remove impeller (7) from shaft assembly (8).
(6)   Place pump assembly on workbench with drive gear upwards.  Turn pump drive gear (14) so one of
the slots in the drive gear is over the ends of bearing retaining ring (13).
(7)   Insert snap ring pliers into slot and remove ring (13) from groove.
(8)   Press shaft bearings and pump gear assembly out of pump body.
(9)   Place gear (14) on bed of press with the shaft extending downward.  Using a suitable sized arbor
shaft, press shaft (8) out of gear.
(10) Support shaft assembly on the inner race of the larger bearing (12) with threaded end down.  Place
flat stock between hydraulic ram and shaft.  Press pump shaft out of large bearing.
(11) Invert shaft and support it on the inner race of the small bearing (11).  Press shaft (8) from bearing.
(12) Use channel lock pliers to grasp the metal flange around the upper portion of seal (9), and twist it to
break the seal and boot away from the outside case of the water seal.
5-167