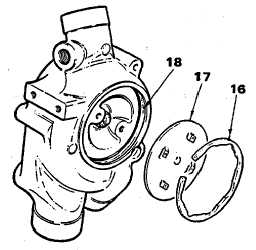 TM 5-4210-233-14&P-1
5-25.  WATER PUMP-Continued
b.
Inspection
.
(1)   Mount pump drive gear in a soft jawed vise.
(2)   Using snap ring pliers, remove snap ring (16).
(3)   Lift off pump cover (17).  Do not remove seal
ring (18).
(4)   Remove water pump from vise and rotate
impeller by hand.  Check for any looseness
in the bearing.  Repair as required.  See repair
and disassembly procedures following.
(5)   If required, check impeller for build up of
contaminants or foreign material.  Remove impeller
and repair as detailed in repair and disassembly
procedures following.
c.
Repair
.
NOTE
Water   pump   must   be   removed   from   truck.      See   Removal
preceding.    Water  pump  can  be  repaired  using  one  of  three
methods.
(1)   Replacing seals and individual components as required, and repairing impeller.
(2)   Replacing impeller assembly, which has new insert installed, and replacing seals and individual
components as required.
(3)   Replacing all internal pump parts.
5-166