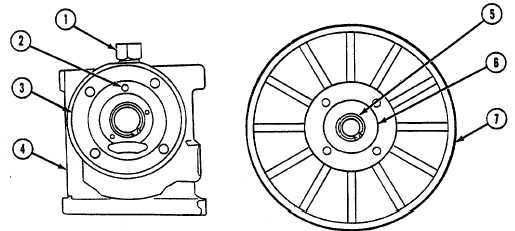 TM 5-4210-233-14&P-1
5-23.  TURBOCHARGER-Continued
c.     

Cleaning

and

Inspection

.
WARNING
·
Adhesives,   solvents,   and   sealing   compounds   can   burn
easily, can give off harmful vapors, and are harmful to skin
and  clothing.    To  avoid  injury  or  death,  keep  away  from
open   fire   and   use   in   well-ventilated   area.      If   adhesive,
solvent, or sealing compound gets on skin or clothing, wash
immediately with soap and water.
·
Dry   cleaning   solvent   P-D-680   is   potentially   dangerous.
Avoid repeated and prolonged breathing of vapors and skin
contact with the liquid.  Do not use near open flame, arcing
equipment   or   other   ignition   sources.      Always   wear   eye
protection  and  protective  clothing.    The  flash  point  of  P-D-
680 is 100 to 138 deg.  F (38 to 59 deg.  C).
NOTE
Do not use a caustic cleaning solution.  It can damage parts.
(1)   Soak metal parts in dry cleaning solvent (Item 3, Appendix E) for 25 minutes.
CAUTION
Do not clean with steel bristle brush.  Turbocharger parts can be
damaged by steel bristles.
(2)   Clean parts with stiff bristle brush after soaking in dry cleaning solvent (Item 3, Appendix E).
(3)   Clean oil passages (1, 2, and 3) in center housing (4) and oil passages (5 and 6) in backplate (7).
(4)   Clean oil inlet hose inside and out.  If oil hose is damaged or deteriorated, replace it.
5-151