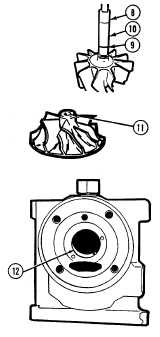 TM 5-4210-233-14&P-1
5-23.  TURBOCHARGER-Continued
WARNING
Compressed air used for cleaning purposes shall not exceed 30
psi   (207   kPa).      Use   only   with   effective   chip   guarding   and
personal protective equipment (goggles/shield, gloves, etc.).
(5)
Dry turbocharger parts with compressed air.
(6)
Inspect turbocharger parts for nicks, cuts, scratches, scoring or other damage.
(7)
Inspect screw threads for stripping or cross-threading.
NOTE
Measurements given in this section are for used parts.
(8)   Check diameters of turbine wheel shaft journals (8 and 9) on
shaft (10) Journal diameters must be between 0.6250 and
0.6254-in (15.875 and 15.885 mm).
(9)   Inside diameter of compressor wheel (11) must not be greater than
0.3749-in (9.522 mm).
(10)  Inside diameter of center housing (12) must not be greater
than 0.9842-in (24.998 mm).
5-152