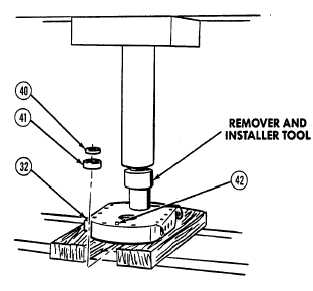 TM 5-4210-233-14&P-1
5-22.
BLOWER REPAIR - Continued
NOTE
Repeat steps (30) through (33) for
front and rear end plates.
(30)
Position rear end plate (32) on
wood blocks.
(31)
Place long end of remover and
installer tool through seal ring
collar (40) into ball bearing (41).
(32)
Press out ball bearing (41) and
seal ring collar (40).
(33)
Inspect dowel pins (42) for
breakage or damage. Replace if
broken or damaged.
b.
Cleaning/Inspection
.
WARNING
·
Dry   cleaning   solvent   P-D-680   is   potentially   dangerous.
Avoid repeated and prolonged breathing of vapors and skin
contact with the liquid.  Do not use near open flame, arcing
equipment   or   other   ignition   sources.      Always   wear   eye
protection  and  protective  clothing.    The  flash  point  of  P-D-
680 is 100 to 138 deg. F (38 to 59 deg. C).
·
Death   or   serious   injury   could   occur   if   compressed   air   is
directed  against  the  skin.    Do  not  use  compressed  air  for
cleaning or drying unless the pressure is/has been reduced
to   30   psi   (2.11   kg/cm2)   or   less.      When   working   with
compressed air, always use chip guards, eye protection, and
other personal protective equipment.
CAUTION
Do not use compressed air on bearings.  Allow bearings to air dry.  Compressed air
may cause damage to bearings.
(1)   Clean metal parts in dry cleaning solvent (Item 3, Appendix E).  Dry parts other than bearings with
compressed air.
(2)   Examine the bearings for any indications of corrosion or pitting.  Lubricate each ball bearing with light
engine oil (Item 10, Appendix E).  Then, while holding the bearing inner race from turning, revolve the
outer race slowly by hand and check for rough spots.  The double-row ball bearings are pre-loaded and
have no end play.  A new bearing will seem to have considerable resistance to motion when revolved
by hand.
5-129