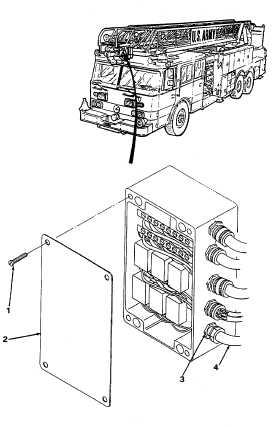 TM 5-4210-233-14&P-1
4-202.  MONITOR AND NOZZLE
This task covers:
a.
Removal
c.
Follow-on Maintenance
b.
Installation
TOOLS REQUIRED
EQUIPMENT CONDITION
Tool Kit, General Mechanics, Automotive
Main Engine Shutdown (see para 2-12 .)
(Appendix B, Section III, Item 1)
APU Shutdown (see para 2-16 .)
Batteries Disconnected (see para 4-114 .)
MATERIALS/PARTS REQUIRED
Aerial Waterway Drained (see para 2-17 .)
Butt Connectors (Item 27, Appendix E)
Tags, Identification (Item 32, Appendix E)
Silicone Sealant (Item 35, Appendix E)
a.
Removal
WARNING
Serious injury could occur if heavy equipment is
moved/lifted without sufficient personnel to do the
job.  Use proper physical lifting procedures or use
a suitable lifting device or dolly.  Wear safety
shoes, gloves and other suitable protective cloth-
ing.  Area should be clear of other personnel.
Serious injury or death can result from falling
objects.
(1)
Attach a suitable lifting device to the monitor
and nozzle assembly.
(2)
Loosen four screws (1) and remove cover (2)
from electrical box on end of ladder.
4-508