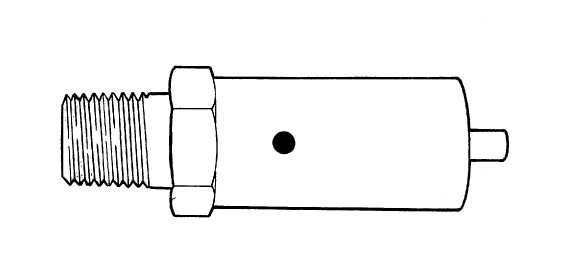 TM 5-4210-233-14&P-1
4-152.  SAFETY VALVE
THIS TASK COVERS:
a.
Removal and Replacement
b.
Follow-on Maintenance
TOOLS REQUIRED
EQUIPMENT CONDITION
Tool Kit, General Mechanics, Automotive
Main Engine Shutdown (see para 2-12 .)
(Appendix B, Section ll, Item 1)
Batteries Disconnected (see para 4-114 .)
All Air Tanks Drained (see para 4-157 .)
a.
Removal
and
Replacement
.
NOTE
Safety valve is located in the top passenger side air tank.  Refer
to   locator   view   in   para   4-147   and   air   system   schematic   in
Appendix G for additional information.
(1)   Unscrew safety valve from tank and install new safety valve.  Tighten securely.
b.
Follow
-
on
Maintenance
.
(1)   Connect batteries (see para 4-114).
(2)   Check for air leaks as described in para 4-147 .
4-428