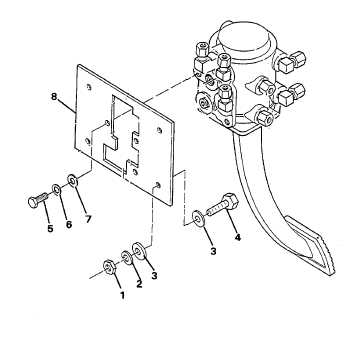 TM 5-4210-233-14&P-1
4-151.  BRAKE PEDAL VALVE
THIS TASK COVERS:
a.
Removal
c.
Follow-on Maintenance
b.
Installation
TOOLS REQUIRED
EQUIPMENT CONDITION
Tool Kit, General Mechanics, Automotive
Main Engine Shutdown (see para 2-12 .)
(Appendix B, Section lll, Item 1)
APU Shutdown (see para 2-16 .)
Batteries Disconnected (see para 4-114 .)
Truck Wheels Blocked
All Air Tanks Drained
a.
Removal
.
NOTE
The brake pedal valve is located under the dash panel and next
to   the   steering   column.      Refer   to   air   system   schematic   in
Appendix G for additional information.
(1)   Remove four nuts (1), four lockwashers (2), eight washers (3) and four screws (4).
(2)   Tag and disconnect air lines and wiring
on brake pedal valve.
(3)   Note location and position of fittings
and pressure switches on brake pedal
valve and remove.
(4)   Remove three screws (5), intemal
tooth lockwashers (6) and washers (7).
Remove mounting plate (8).
4-426