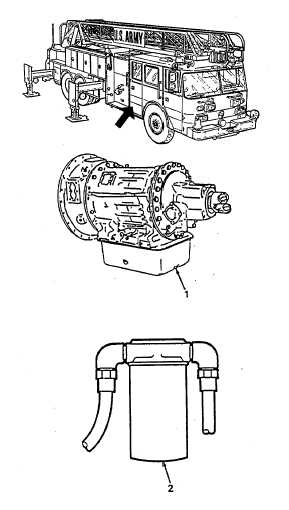 TM 5-4210-233-14&P-1
4-142.  TRANSMISSION
THIS TASK COVERS:
a.
Service
b.
Follow-on Maintenance
TOOLS REQUIRED
EQUIPMENT CONDITION
Tool Kit, General Mechanics, Automotive
Main Engine Shutdown (see para 2-12.)
(Appendix B, Section fi1, Item 1)
APU Shutdown (see para 2-16.)
Batteries Disconnected (see para 4-114.)
MATERIALS/PARTS REQUIRED
Pipe Sealant (Item 2, Appendix E)
Tie Straps (Item 33, Appendix E)
Transmission Fluid (Item 12, Appendix E)
Filter (Figure 133, Appendix F)
Gasket (Figure 133, Appendix F)
Lint-Free Cloth (Item 42, Appendix E)
a.
Service
.
(1)   Operate vehicle until transmission is warm.
Park vehicle on level surface, apply parking
brake, and shut down engine.
NOTE
Transmission has a capacity of 33 quarts (31.2 1)
(2)   Remove drain plug (1) and drain transmission
fluid into suitable container.
NOTE
The transmission filter is located on the passenger
side  of  the  transmission,  mounted  to  a  bracket
attached  to  the  passenger  side  truck  frame.  It  is
the large filter directly behind the two smaller fuel
filters.
(3)   Remove transmission filter (2) with filter
wrench. Place a suitable container under filter
for transmission fluid.
4-412