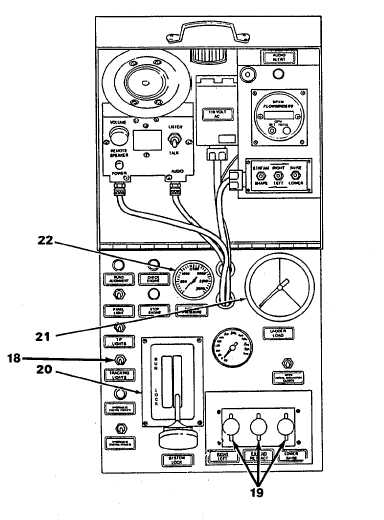 TM 5-4210-233-14&P-1
2-6.  AERIAL LADDERIWATER TOWER CONTROLS AND INDICATORS - Continued
ITEM
CONTROL/INDICATOR
FUNCTION
18
TRACKING LIGHTS Switch
Turns ladder base section tracking lights on and off.
19
Ladder Operating Levers
Operate individual levers in direction indicated to move
ladder (right/left, extend/retract, raise/lower).
20
RUN/LOCK Lever
Push lever forward to advance engine to hi-idle and enable
hydraulics to operating control valves. Pull lever rearward
to return to slow idle and to lock ladder controls.
21
LADDER LOAD Gauge
Indicates safe/unsafe operating load.
22
SYSTEM PRESSURE Gauge
Indicates hydraulic pressure in psi.
2-25