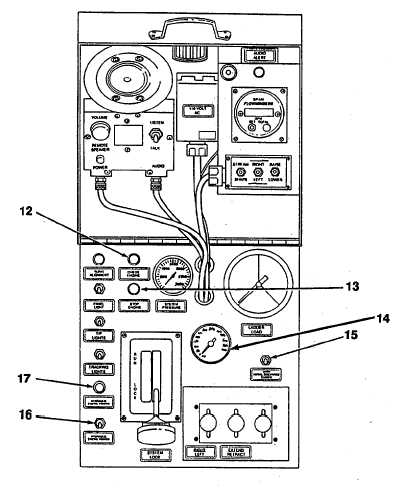 TM 5-4210-233-14&P-1
2-6.  AERIAL LADDERIWATER TOWER CONTROLS AND INDICATORS - Continued
ITEM
CONTROL/INDICATOR
FUNCTION
12
CHECK ENGINE Indicator Light (Amber)
Indicates problem with truck engine.
13
STOP ENGINE Indicator Light (Red)
Indicates truck engine must be stopped immediately to
prevent serious engine damage.
14
Water Pressure Gauge
Indicates water pressure in aerial system.
15
AERIAL DISCHARGE Switch
Allows water flow to aerial discharge nozzle.
16
HYDRAULIC EMERGENCY
Push up and hold to activate electric emergency hydraulic
POWER Switch
pump.
17
HYDRAULIC EMERGENCY
Indicates electric emergency hydraulic pump is operating.
POWER Light
2-24