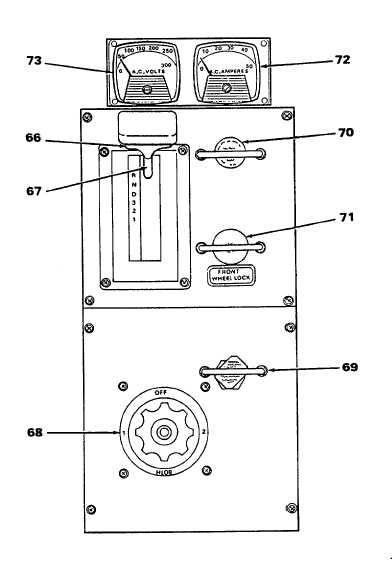 TM 5-4210-233-14&P-1
2-2.  CAB INTERIOR CONTROLS AND INDICATORS - Continued
ITEM
CONTROL/INDICATOR
FUNCTION
66
Shift Lock Lever
Locks transmission [ever in gear selected.
67
Transmission Shift Selector Lever
Used to select desired gear of transmission.
68
Battery Selector Switch
Selects which battery current is drawn from: left (1),
right (2) or both.
69
PARKING BRAKE Control
Controls   the   application   and   release   of   the   parking
brake.
70
EMERGENCY PARKING BRAKE
Temporarily    releases    brakes    allowing    truck    to    be
moved in the event of a brake system failure.
RELEASE Control
71      
FRONT WHEEL LOCK Control
Locks front wheel brakes. Pull PARKING BRAKE knob
out and push FRONT WHEEL LOCK button in.
To release, push PARKING BRAKE button in.
72
A-C AMPERES Meter
Indicates current flow from APU.
73
A-C VOLTS Meter
Indicates voltage output of APU.
2-9