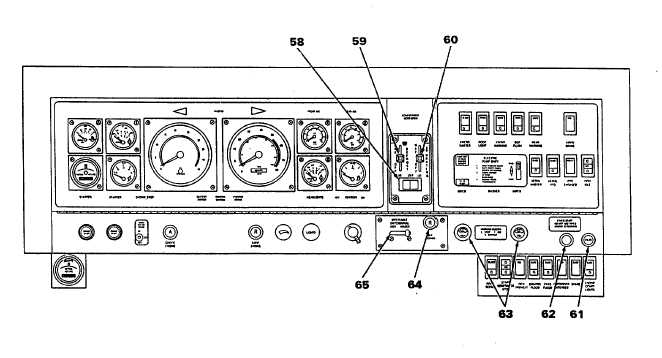 TM 5-4210-233-14&P-1
2-2.  CAB INTERIOR CONTROLS AND INDICATORS - Continued
ITEM
CONTROL/INDICATOR
FUNCTION
58
Heater HI/LO/OFF Switch
Controls speed of cab heater fan.
59
DEFROST OFF/MAX Lever
Regulates temperature for windshield defroster.
60
HEATING OFF/MAX Lever
Regulates temperature for cab heater.
61
VOLTS Indicator Light/Alarm
Indicates below normal voltage in battery circuit.
62
ETHER START Switch
Injects ether into engine for cold starting.
63
WIPER/WASHER Switch
Rotate clockwise to turn on windshield wipers.
Push to activate windshield washer.
64
DIFF LOCKED Indicator Light (Red)
Indicates when axle differentials are locked.
65
INTER-AXLE DIFFERENTIAL
Slide lever left to engage differential locks.
LOCK/UNLOCK Control
Slide lever right to disengage.
2-8