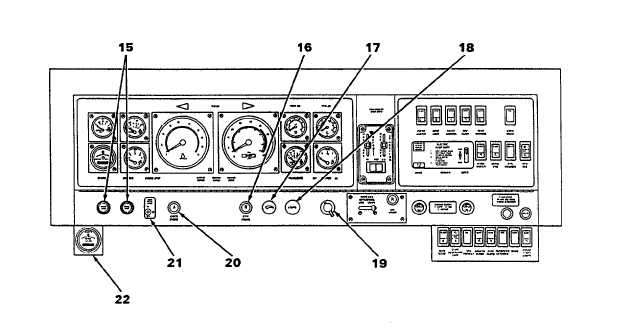 TM 5-4210-233-14&P-1
2-2.  CAB INTERIOR CONTROLS AND INDICATORS
ITEM
CONTROL/INDICATOR
FUNCTION
14
Headlight Dimmer Switch
Controls Lo-Beam and Hi-Beam headlight functions.
(Illustrated on page 2-3)
15      
ENGINE START Pushbutton Switch              
Depress both pushbuttons at the same time to start
engine.
16      
STOP ENGINE Indicator Light (Red)           
Indicates truck engine must be stopped immediately to
prevent serious engine damage.
17
Dashboard Light Dimmer Rotary Switch
Controls brightness of dashboard lights.
18
LIGHTS Switch
Pull to turn on headlights, push to turn off.
19
Ignition ON/OFF Knob/TEST
Turn to ON before starting engine. Turn to TEST to
Rotary Switch
check operation of warning lights.
20
CHECK ENGINE Indicator Light (Amber)
Indicates problem with truck engine.
21
JACOBS ENGINE BRAKE Switch
Switch to Hi, Max Effort.
Switch to LO, As Required.
Switch to OFF, Not needed.
22      
AERIAL HOURS Meter                          
Indicates hours of operation of aerial ladder for
maintenance service checks.
2-4