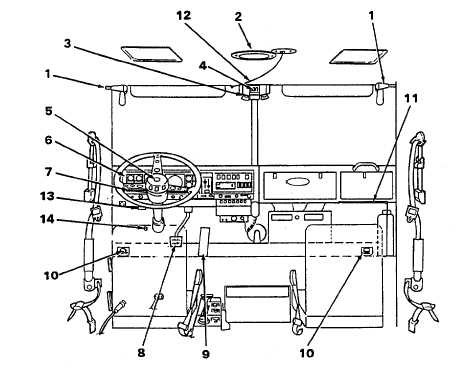 TM 5-4210-233-14&P-1
2-2.  CAB INTERIOR CONTROLS AND INDICATORS
ITEM
CONTROL/INDICATOR
FUNCTION
1
Spot Light On-Off Toggle
Control   exterior   illumination.   Permit   360°    horizontal
and
Switches and Control Handles
1200 vertical rotation of spotlights.
2
Warning Light (Red)
Indicates compartment doors are open.
3
Map/Dome Light
Illuminates cab.
4
Map/Dome Light On-Off Switches
Control operation of Map/Dome Light.
5
Horn Button
Warns pedestrians or other drivers of approach or
intended movement.  Push to sound horn.
6       
Instrument Panel                            
Contains operating gauges, controls, switches and
lights.  Described in detail on following pages.
7
Turn Signal Switches
Signal left/right turn and activate emergency flashers.
8
Air Brake Pedal
Engages service air brakes.
9
Accelerator Pedal
Control speed of engine.
10
MECHANICAL SIREN Foot Pedal
Operate siren from either side of cab.
Switches
11
Bell Rope
PuII rope to sound bell.
12
Air Horn Rope
Pull rope to sound air horn.
13
Air Intake Restriction Indicator
Indicates condition of engine air cleaner element.
Replace air filter when red indicator shows fully.
2-3