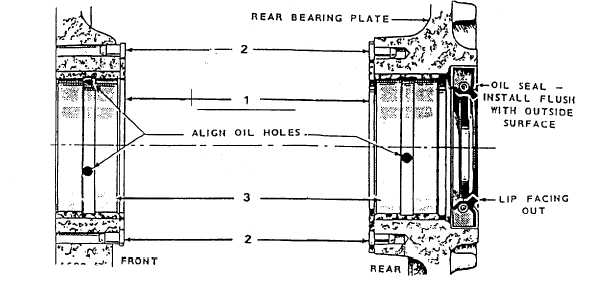 TM 5-4210-233-14&P-1
5-71.  APU CRANKSHAFT, BEARINGS AND SEALS - Continued
c.
Installation
.
CAUTION
Do not attempt to drive a bearing into a cold block.
(1)   Press the front and rear main bearings into place, aligning the bearing (3) and bearing housing oil
holes.
(2) Apply SAE 30 (Item 14, Appendix E) to the oil seal lip.
(3) Install the thrust washers (1) and locking pins (2).
(4) Oil the bearing surfaces.
(5) Install the crankshaft (4) from the rear of the crankcase through the rear bearing plate hole.
(6) Mount and secure the rear bearing plate (5).
(7) Heat the timing gear (6) on an electric burner or oven to about 350°F (177 °C).
5-382