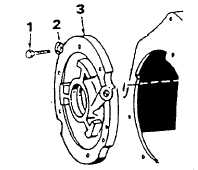 TM 5-4210-233-14&P-1
5-71.  APU CRANKSHAFT, BEARINGS AND SEALS - Continued
(5) Remove the rear bearing plate (3) from the crankcase by removing six bolts (1) and twelve washers (2).
(6) Remove the crankshaft through the rear opening.
b.
Cleaning
and
Inspection
.
WARNING
Dry  cleaning  solvent  P-D-680  (safety  or  Stoddard's  solvent)  is
potentially  dangerous.  Avoid  repeated  and  prolonged  breathing
of  vapors  and  skin  con-  tact  with  the  liquid.  Do  not  use  near
open flame, arcing equipment or other ignition sources. Always
wear eye protection and protective clothing. The flash point of P-
D-680 is 1 00 to 138 deg. F (38 to 59 deg. C).
Death or serious injury could occur if compressed air is directed
against  the  skin.  Do  not  use  compressed  air  for  cleaning  or
drying  unless  the  pressure  is/has  been  reduced  to  30  psi  (2.11
kg/cm 2) or less. When working with compressed air, always use
chip   guards,   eye   protection,   and   other   personal   protective
equipment.
(1)   Clean  the  crankshaft  with  dry  cleaning  solvent  (Item  3,  Appendix  E)  and  blow  out  all  oil  passages.
Check journals for out-of-round, taper, grooving or ridges. Pay particular attention to ridges or grooves
on  either  side  of  the  oil  hole  areas.  Unusual  conditions  here  often  point  to  previous  neglect  of  oil
changes.
(2)   Replace main bearings if bearings are worn, grooved or broken. Precision replacement bearing inserts
and thrust washers are available for all main bearings. Do not ream the bearings. Align the oil holes
and press the new bearings into the front and rear housings.
(3)   The rear oil seal is in the rear bearing plate. If damaged, drive it out from the inside of the plate.  Using
the  oil  seal  installing  tool,  install  a  new  seal  with  the  rubber  lip  facing  outward  (open  side  of  seal
inward). Drive the new seal flush with the rear surface of the bearing plate. Leave the seal installer on
during bearing plate installation to protect the oil seal.
5-381