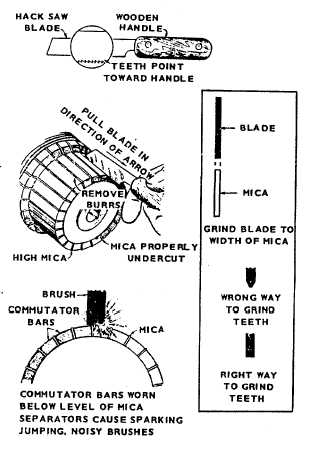 TM 5-4210-233-14&P-1
5-66.  APU GENERATOR-Continued
(11)
Check  the  field  winding  resistance  from  F2  in  the  control  box  to  the  F  +  connection  on  the
generator (F + is connected to the positive brushes).  Resistance should be 1.46 ohms on standard
ac models.  Other models will have the following resistances:
2.06 ohms for 24-volt cranking
3.80 ohms for 32-volt cranking
0.80 ohms for transistor flicker
5.14 ohms for 24-volt battery charger
8.8 ohms for 32-volt battery charger
If the windings are warm from running, the resistance will be slightly higher. If the resistance is
high, check for an open circuit in one of the parallel windings, step 12, otherwise go to step 13.
(12)  Separate the parallel field windings (at F +) and
check each for open circuit.
(13)
Check  for  open  circuit  in  the  series  winding
with ohmmeter.  Touch probes to lead S1 and
connection   F   +.   If   there   is   an   open   circuit,
isolate each coil and check ft.
(14)
Test    for    short    circuit    between    the    starter
windings   and   the   shunt   windings.      Before
doing this, separate all windings at F +.
(15)
Commutator   Repair:   The   commutator   bars
wear  down  with  use,  so  eventually  the  mica
between  them  extends  over  the  tops  of  the
bars  and  causes  sparking  and  noisy  brushes.
When the mica on any part of the commutator
is  touching  the  brushes,  it  must  be  undercut.
A suitable undercutting tool can be made from
a  hacksaw  blade.    Be  careful  not  to  injur  the
bars.    After  undercutting,  remove  any  burrs
formed  on  the  bars.    Cut  the  mica  to  about
1/32" under the bars.
(16)
If the commutator is grooved, out-of-round, or
otherwise   damaged,   refinish   it.   Turn   it   in   a
lathe and then undercut the mica as described
above.
Shield
the
ball
bearing
during
refinishing.      Do   not   use   turning   centers   on
shaft    because    they    probably    have    been
damaged   and   are   no   longer   true   centers.
Commutator  and  slip  ring  run  out  should  be
less than .002 in.
(17)
Brush  Rig  Alignment:  The  brush  rig  must
be  aligned  in  the  neutral  position.    If  it  isn't
sparking    will    occur.    Normally    the    neutral
position     is     identified     by     a     yellow     mark
extending from the brush rig to the endbell.  If
the  mark  is  lost,  or  a  new  brush  rig  installed,
follow   these   instructions   to   find   the   neutral
position.
5-368