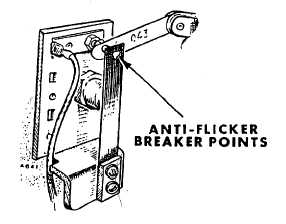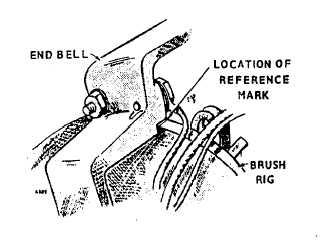 TM 5-4210-233-14&P-1
5-66.  APU GENERATOR-Continued
WARNING
Be careful when working on or with electrical equipment. Do not
be misled by the term "low voltage".  Voltages as low as 50 volts
may cause death.
(18)  With the end cover and band removed
to allow access to the rig, start the unit.
(19)  Apply full rated load.
(20)  Allow    unit    to    reach    full    operating
temperature.
(21)  Inspect  brushes;  they  must  be  seated
across the brush face if we are to have
an accurate setting.
(22)  Connect   a   voltmeter   across   the   dc
terminals.
(23)  Loosen  the  brush  rig  mounting  screws
and  rotate  the  rig  to  get  the  highest
voltage with full load.
(24)
Rotate the rig in one direction until the
voltmeter  reading  starts  to  decrease.
Mark this point.
(25)  Repeat Step 20 in the other direction.  Half the distance between the two marked points is the
neutral position.
(26)  Shutdown unit.
f.
Adjustment
.
(1)   The anti-flicker breaker points are located
on   the   left   rear   corner   of   the   engine
crankcase.    The  camshaft  opens  these
points  on  every  power  stroke  to  add  a
resistor  in  series  with  the  generator  field
windings  (2).  To  adjust  the  points,  crank
the   engine   until   the   points   are   at   full
separation.  Adjust the stationary contact
to .025 in. (.64 mm) gap.  Retighten and
check  the  gap.    When  breaker  plunger
guide and O-ring are removed, dip O-ring
in oil before reinstalling.  Tighten guide to
25 to 28 ft Ibs (34 to 38 N·m).
(2)   The  adjustable  flicker  resistor  is  located
on  the  right  side  of  the  control  box.  If
flicker   becomes   excessive,   adjust   the
resistor    by    moving    its    slider.    Adjust
resistor    for    minimum    flicker    with    the
average load on the plant.
g.
Follow
-
on
Maintenance
.
(1)
Install APU (see para 4-207).
5-369