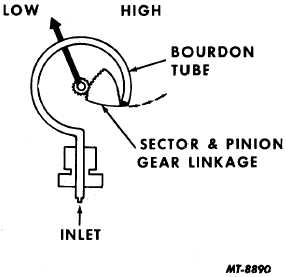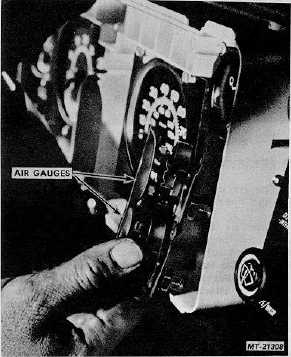 TRUCK SERVICE MANUAL
TM 5-4210-230-14&P-1
INSTRUMENTS
Fig.  23 Air Pressure Gauge Details
Remove
1.
Detach instrument cluster and cluster bezel.
2.
Unscrew  air  lines  from  fittings  on  rear  of  the  two  air
gauge inlets on back of instrument cluster.
3.
Remove gauge mounting screws and demount gauges
from instrument cluster (Fig.  24).
Fig.  24 Removing Air Pressure Gauges
4.
Separate individual gauges from bracket.
Test
1.
If a suspected gauge has been reading high and does
not  return  to  zero  when  disconnected,  Bourdon  tube
has  been  damaged.    Service  by  replacing  with  a  new
gauge.
2.
If gauge has been reading

low

or does not read at all,
examine   the   inlet   connection   for   dirt   which   might
restrict    air    from    entering    gauge.        Make    a    trial
connection and if gauge still does not register correctly,
replace gauge.
IMPORTANT
Always  make  a  comparison  test  with  a  gauge
known to be reading correctly before discarding
a questionable gauge.
Install
Installation   of   air   gauges   is   the   reverse   of   removal
procedure.  Be sure to use non-hardening sealing compound on
fitting  threads  to  prevent  leaks.    Check  installation  so  as  to
prevent kinks in air lines.
VOLTMETER
The   voltmeter   or   battery-charging   system   gauge   (Fig.
25)   indicates   the   condition   of   battery   and   charging   system.
This  gauge  will  monitor  a  voltage  range  between  10  and  16
volts.      Color   segments   of   this   range   also   indicate   system
condition as follows:
GREEN  -  A well charged battery.
FIRE ORANGE  -  Either a too high or too low charged
battery.
With   key   switch   "on"   but   before   starting   engine,   the
voltmeter will show condition of battery.  While starting engine,
indicator will temporarily descend to "Fire Orange" segment but
immediately    return    to    "Green"    segment    when    engine    is
operating.      With   engine   running   at   operating   speeds,   the
voltmeter indicator should remain in the "Green" segment.  This
is   charging   system's   normal   operating   range   and   indicates
alternator is charging.
If indicator ascends to "Fire Orange" segment, alternator
voltage output is too high.
Constant    reading    in    either    high    or    low    fire    orange
segments of the voltmeter indicates a
CTS-2735R  Page 14
PRINTED IN UNITED STATES OF AMERICA