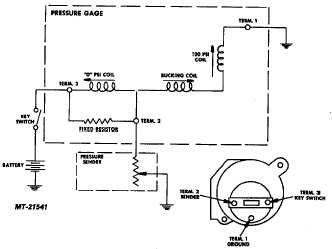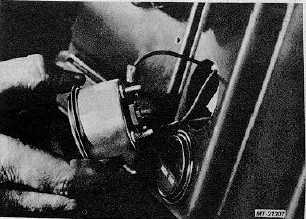 TRUCK SERVICE MANUAL
TM 5-4210-230-14&P-1
INSTRUMENTS
IMPORTANT
Sometimes sealant or dirt on threads of sender
(thermister)   prevent   a   good   electrical   contact
necessary for sender grounding.  Check for this
condition before replacing sender.
If   results   of   Steps   3   thru   5   are   unsatisfactory   check
continuity of circuit with a standard test light.  If continuity is OK
and gauge still does not respond, replace gauge.
OIL PRESSURE GAUGE
The    oil    pressure    gauge    is    electrically    actuated    and
consists    of    two    basic    components--the    instrument    cluster
mounted   gauge   and   the   engine   oil   gallery   mounted   sending
unit.  The sending unit: senses the pressure of oil in the engine
oil gallery during engine operation and registers the pressure on
the gauge.
The operation of the oil pressure gauge system (Fig.  21)
is  the  same  as  for  fuel  level  gauge  except  that  sender  is  a
diaphragm unit in oil gallery instead of a float.
Testing for a defective oil pressure system component is
also    the    same.        See    FUEL    LEVEL    GAUGE    for    testing
procedure.
Fig.  21 Oil Pressure Gauge Circuit Diagram
OIL PRESSURE WARNING LAMP
A second or back-up oil pressure warning system is also
used.  This system uses a second oil pressure warning switch
mounted on the engine.
When engine oil pressure is in its normal operating range
(high)  the  pressure  switch  is  held  in  its  off  position  and  no
current is sent to warning light in the instrument cluster.
When  engine  oil  pressure  is  below  its  normal  operating
range (low) the pressure switch will close to its "on" position and
deliver current to warning light in instrument cluster and cause
warning lamp to light.  OPTIONAL TEMPERATURE GAUGE
The   optional   temperature   gauges   (Fig.      22)   are   also
electro-magnetic    type    and    are    actuated    by    sending    units
(variable  resistance  thermisters).    Sending  units  are  located  in
the   component   on   which   temperature   monitoring   is   desired
(engine, transmission, rear axles, etc.  )
Operating and testing of optional temperature gauges is
the  same  as  for  comparable  temperature  systems  previously
covered.    See  SPECIFICATIONS  for  variable  resistance  value
(ohms) required for checking these gauges.
Fig.  22 Servicing Optional Gauge
AIR PRESSURE GAUGE
The  air  pressure  gauges  are  the  mechanical  type  and
operate on the Bourdon tube principle.
When    air    system    is    pressurized,    air    enters    the    air
pressure  gauge  and  exerts  pressure  on  the  Bourdon  tube.    As
pressure  increases,  the  Bourdon  tube  tends  to  straighten  out
and thus actuate the sector and pinion gear (Fig.  23) to which it
is  attached.    This  causes  indicator  to  move  across  dial  in  an
upscale direction.  When pressure decreases, the Bourdon tube
relaxes and pointer moves in a downscale direction.  A steadily
applied  air  pressure  holds  the  Bourdon  tube  and  pointer  at  a
fixed
scale
reading
corresponding
to
applied
pressure.
CTS-2735R  Page 13
PRINTED IN UNITED STATES OF AMERICA