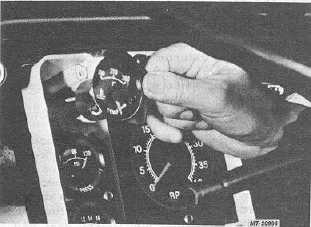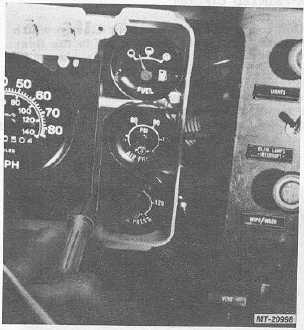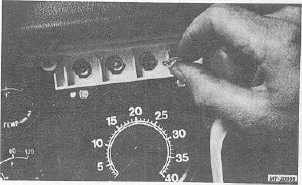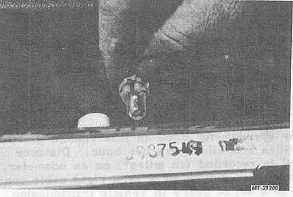 TRUCK SERVICE MANUAL
TM 5-4210-230-14&P-1
INSTRUMENTS
Fig.  7  Removing Electrically Actuated Water
Temperature Gauge
Fig.  8    Removing Tachometer
3.
Mechanical   type   air   gauges   (Fig.      9)   are   front
serviceable  after  removing  air  line  fittings  from
rear of cluster (Fig.  5).
IMPORTANT
Air   gauges   are   mounted   to   a   common
bracket  and  are  installed  or  removed  as  a
pair   from   the   cluster   body.      Also,   when
reinstalling air lines and fittings, use a non-
hardening type sealant on screw threads.
4.
Light  bulbs  are  plug-in,  spring-loaded  type  and
are    serviceable    from    either    front    or    rear    of
instrument cluster (Figs.  10 & 11).
Fig.  9   Removing Air Gauges
Fig.  10  Removing Bulb from Front of Cluster
Fig.  11   Removing Bulb and Bulb Socket from Rear of
Cluster.
CTS-2735  Page 5
PRINTED IN UNITED STATES OF AMERICA