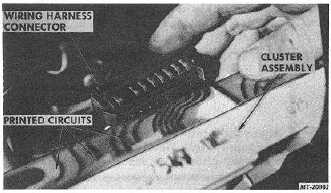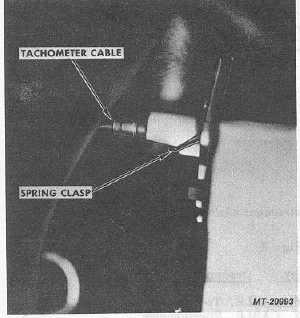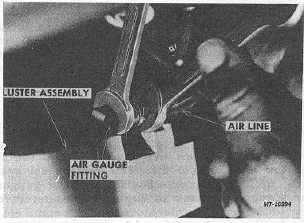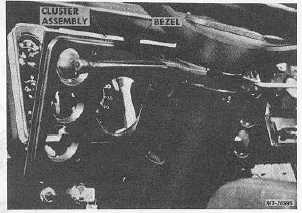 TRUCK SERVICE MANUAL
TM 5-4210-230-14&P-1
INSTRUMENTS
Fig.  3   Removing Wiring Harness Connector
4.
Press down on quick-connect spring clasp (Fig.  4) and
disconnect  flexible  cables  from  back  of  speedometer
and tachometer.
5.
Unscrew  air  or  vacuum  lines  from  fittings  (Fig.    5)  on
back of air or vacuum gauges.  Two gauges are used
with  air  braked  trucks  --one  gauge  only  with  vacuum
(hydraulic) braked trucks.
6.
Instrument cluster assembly is now free to be removed
from instrument panel.
Fig.  4  Releasing Speedometer and Tachometer Cable
Fig.  5 Removing Air or Vacuum Lines
Remove
Instrument
Cluster
Components
If   it   is   desired   that   individual   components   are   to   be
removed, procedure is as follows:
1.
With    the    four    cluster    mounting    screws    removed,
remove  a  fifth  mounting  screw  front  center  of  cluster
bezel and detach bezel (Fig.  6).
Fig.  6  Removing Instrument Cluster Bezel
2.
Individual  gauges  can  now  be  removed  by  loosening
gauge  mounting  screws  as  required.    All  electrically
actuated gauges (Fig.  7) are removed from front and
have plug-in spring loaded connections.  Speedometer
and tachometer (Fig.  8) are also front serviceable and
can   be   removed   from   cluster   without   disconnecting
cables.  (If cables are to be removed, these are quick-
disconnect from rear of cluster.)
CTS-2735  Page 4
PRINTED IN UNITED STATES OF AMERICA