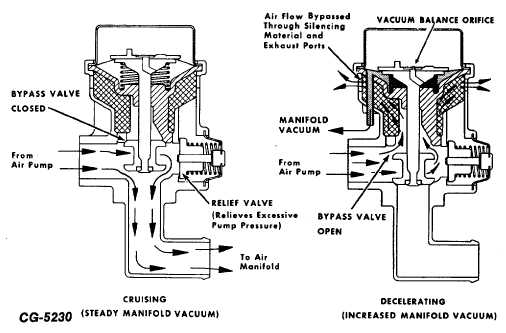 ENGINE DIVISION SERVICE MANUAL
TM 5-4210-230-14&P-1
Fig. 69  Typical Diverter Valve Operation
(7)
Remove vacuum hose from diverter valve (Fig.  68)
and check for a vacuum pull at the end of hose.  If no
vacuum is felt, replace hose.
(8)
Reconnect   vacuum   hose   from   diverter   valve   and
check for momentary flow of air through the diverter
valve exhaust ports (Fig.  69).  After a few seconds,
flow  of  air  through  the  diverter  valve  exhaust  ports
should    be    restored.        If    diverter    valve    does    not
function    properly,    valve    is    faulty    and    must    be
replaced.
AIR INJECTION SYSTEM FUNCTIONAL
TEST (For California)
The   air   injection   system   used   on   engines   sold   in
California   consists   of   two   separate   systems,   one   system
operating  the  left  bank  and  the  other  system  operating  the
right bank.  Each system, consisting of an air pump, diverter
valve and connecting hoses, must be tested individually.
Perform air injection system functional test as follows:
Fig.  70  Air Injection System Used on Small V8
Engine (Except California)
CGES-215  Page 40