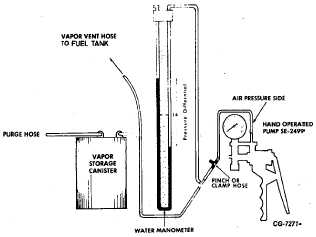 ENGINE DIVISION SERVICE MANUAL
TM 5-4210-230-14&P-1
Fig.  18  Method of Pressurizing Vapor Vent System to Check
for Leakage
Pressure    test    fuel    tank    vapor    vent    system    by
disconnecting  the  hose  on  canister  leading  to  fuel  tank  and
connect water manometer (SE-2217 or equivalent) and the air
pressure  side  of  hand  operated  vacuum  pump  (SE-2499)  as
shown in Figure 18.
Place sufficient water in manometer to allow 356mm
(14") differential in height.  Pump the hand operated air pump
until  a  pressure  of  356mm  (14")  of  water  is  applied  to  the
system  (indicated  on  the  manometer).    Pinch  or  clamp  hose
between   tee   and   air   pump   to   keep   system   pressurized.
Observe manometer.  If pressure drops more than 51mm (2")
of water in five (5) minutes, an excessive leak is indicated.
On  a  warm  day  it  is  possible  to  observe  a  pressure
rise due to evaporation of fuel.  This indicates that system is
tight.
If excessive leakage is indicated, first check fuel tank
cap   for   a   loose   fit   on   tank   filler   neck   or   a   damaged   cap
gasket.  If either of these conditions are found, replace cap.  If
cap-to-filler  neck  fit  and  cap  gasket  are  satisfactory,  cover
relief valve opening in cap (small hole in portion of cap which
enters filler neck) securely with tape.  Reinstall cap and again
pressurize   system   and   check   for   leakage.      If   excessive
leakage   persists,   check   all   connections   in   fuel   supply   and
vapor  vent  system  with  soap  suds  solution  to  locate  leaks.
Inspect  for  cracked  or  damaged  fuel  supply  or  vapor  vent
tubes or connecting hoses.  If no leaks are found and system
holds   pressure   with   valve   opening   uncovered,   it   can   be
assumed that relief valve in cap is faulty.  Replace cap.
When  pressure  testing  system  following  installation
of a new fuel tank, it will be necessary to disconnect and plug
fuel  system  line  at  fuel  pump  to  prevent  air  leakage  through
fuel pump and carburetor.
Air Cleaner Charcoal Rings
When  engine  is  shut-off,  gasoline  vapors  released
through   the   carburetor   throats   are   temporarily   trapped   in
charcoal rings located in the bottom of the air cleaner.  When
the engine is started the vapors are drawn from the charcoal
rings  into  the  engine  and  burned.    Damaged  charcoal  rings
should be replaced and installed with a silicone type adhesive.
Fuel Tank Cap
Fuel  tank  caps  are  nonvented  to  prevent  passing  of
gasoline vapors directly into the atmosphere.
Fig.  19  Fuel Tank Cap Relief Valve Operation
CGES-215  Page 13
PRINTED IN UNITED STATES OF AMERICA