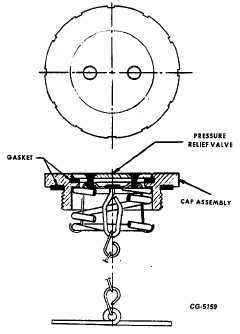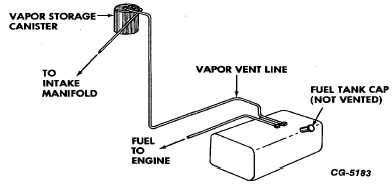 ENGINE DIVISION SERVICE MANUAL
TM 5-4210-230-14&P-1
Some  caps  incorporate  a  vacuum  relief  valve  set  to  open  at
approximately 178 to 356mm of water (7" to 14" H20) and a
pressure   relief   valve   set   to   open   at   approximately   508   to
1524mm of water (20" to 60" H20).
The vacuum valve provides an air intake opening to
the   fuel   tank.      As   fuel   is   consumed   or   contracts   due   to
cooling,     causing     low     pressure     (vacuum)     in     fuel     tank,
atmospheric     pressure     opens     the     vacuum     relief     valve,
permitting air to enter the fuel tank.  The pressure relief valve
acts  as  a  pressure  release  in  case  the  vapor  vent  system
becomes  plugged.    Operation  of  fuel  tank  cap  vacuum  relief
valve and pressure relief valves is illustrated in Fig.  19.
Fig.  20 illustrates a typical nonvented fuel tank cap
for vehicles with large side mounted fuel tanks.
Fuel Tank Cap Relief Valve Test
A   quick   check   of   the   vacuum   and   pressure   relief
valves in the fuel tank cap may be made as follows:
Check  vacuum  relief  valve  by  applying  high  suction
to  hole  in  relief  valve  housing  (portion  of  cap  which
enters filler neck).  If vacuum relief valve fails to open
(no air flow through valve), cap should be replaced.
Fig.  20  Fuel Tank Cap (Nonvented Type)
To  check  pressure  relief  valve,  force  air  lightly  into
hole  in  relief  valve  housing.    An  immediate  leak  (air
flow) or failure to release (no air flow) indicates that
pressure relief valve is faulty and that the cap should
be replaced.
Fuel Tanks
Fuel tanks are designed to provide space to permit expansion of gasoline without overflowing.  The tanks incorporate vapor
vent outlets which permit passage of gasoline vapors from the tank.  Some fuel tanks have multiple vapor vent outlets located such
ahat under any sloping attitude of the vehicle at least one of the vent outlets will be above the level of the gasoline in the tank.
Evaporative loss control systems vary between vehicle models, types of fuel tanks and fuel tank installations.  Systems used
on various vehicle models are illustrated in Figs.  21 thru 38.
Fig.  21  CO-1610B and COF-1810B Cargostar Vehicles With 30 Gallon Left Fuel Tank
CGES-215  Page 14
PRINTED IN UNITED STATES OF AMERICA