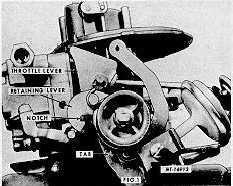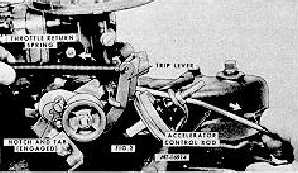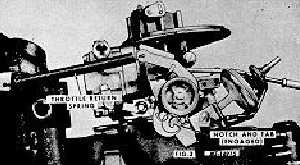 TM 5-4210-230-14&P-1
VEHICLE MAINTENANCE
If throttle return spring has been disconnected or removed, the carburetor linkage will be unloaded as shown in Fig. 1.
Loading the linkage (Fig. 2) is accomplished by rotating throttle lever to wide open throttle (clockwise) and by moving accelerator
control rod to the right.  Do not rotate throttle lever directly, since it will snap to the closed position.  Then attach throttle return spring
to trip lever.  Secure opposite end of throttle return spring to retainer located at thermostat housing.  Slowly return accelerator control
lever to idle position.  Linkage is not loaded (Fig. 3).
Fig. 1
Fig. 2
Fig. 3
ENGINE IDLE-CARBURETOR
ADJUSTMENT (Gasoline Engine)
The engine idling speed can be increased by turning the carburetor throttle stop screw "inward", or decreased by turning the
throttle stop screw "outward".
FUEL FILTER (Gasoline Engine)
The gasoline fuel filter is located in the carburetor fuel inlet line.  For servicing intervals refer to Emissions Manual.
FUEL FILTER (LPG Engine)
The fuel lock-strainer assembly should be drained occasionally and blown out.  If strainer should become clogged, close valve on
tank and allow engine to run until line and strainer are clear of gas.  Stop engine and remove drain plug at bottom of strainer.
CAUTION
To prevent personal injury, property dam age or fatality, do not blow strainer out  while engine is running, vehicle is
close to fire or parked inside of a building.
10