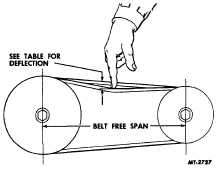 TM 5-4210-230-14&P-1
VEHICLE MAINTENANCE
ENGINE
CRANKCASE VENTILATION SYSTEM
For servicing intervals refer to Emissions Manual.
DIPSTICK-OIL LEVEL
Keep oil level as near the high level mark as possible.  Never operate an engine with oil level below low level mark.
When checking the oil level, the dipstick must be withdrawn and wiped clean, then inserted all the way and again withdrawn for a
true reading .
Never check the oil level with engine running or immediately after engine shutdown as an inaccurate reading will be obtained.
Use only a good grade and proper viscosity engine oil.
The lubricating oil in a diesel engine becomes dark in color after short periods of engine operation.  This discoloration is not
harmful to engine parts as long as the oil and oil filter element change periods are performed at regular intervals .
FAN AND ACCESSORY BELT ADJUSTMENT
Conventional "V " belts are used on the engine to drive the fan and various accessories.  Belt tensions are as follows:
OIL FILTER-ENGINE Gasoline
Procedure for servicing the spin-on type oil filter is as follows:
1.
Remove oil filter assembly by turning counterclockwise with the hands or a suitable tool.  Clean filter mounting pad.
2.
Coat the gasket on the new filter with a film of grease.
3.
Place the new filter in position on the center tube.  Hand tighten ½  to ¾  of a turn after gasket first contacts base of mounting
pad.
4.
Start engine and run for at least five minutes to warm oil and check for leaks.  Also check engine oil level.
FUEL SYSTEM AIR CLEANER (Gasoline Engines)
The dry type air cleaner utilizes a special paper element which is sealed at the outlet end so that all air drawn into the engine
must enter through the element.  There is no oil reservoir used in this type of filter, hence the reference to "dry type".
Connections between the filter and engine must be kept tight to prevent entry of dirt laden air
For servicing intervals refer to Emissions Manual.
CARBURETOR REDUNDANT THROTTLE CLOSING LINKAGE
In the event the throttle return spring becomes disconnected at either end, the carburetor redundant throttle closing linkage will
return throttle linkage to the idle position.  Vehicles may be driven in this condition; however, increased accelerator pedal effort will be
required.    When  this  occurs,  carburetor  redundant  throttle  closing  linkage  should  be  reloaded  as  soon  as  possible  following  the
instructions outlined.
CAUTION
Whenever throttle return spring is disconnected at either end, the throttle linkage at the carburetor will snap to the
closed position under a spring force sufficient to cause possible personal in jury.  It is essential, to prevent personal
injury, that all instructions be followed in the stated order; and hands be kept  clear of carburetor throttle linkage when
connecting or disconnecting the throttle return spring.
9