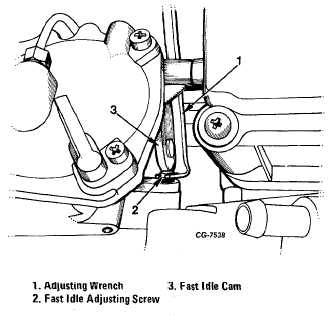 TRUCK SERVICE MANUAL
TM 5-4210-230-14&P-1
ADJUSTMENT PROCEDURE
NOTE: Record the number of turns it takes
to increase or decrease the engine RPM to
the specified speed shown:
V-392
2000 RPM
MV-404, 446
2400 RPM
V-537, 605
2000 RPM
4.    Run  curb  idle  stop  screw  in  until  it  contact  the  internal
stop.
5.  Release choke as it opens completely.
6.      Start   engine,   observe   and   record   (RPM)   tachometer
reading.    If  RPM  reading  does  not  correspond  with  fast  idle
speed specification chart, an adjustment should be made.
7.  To increase RPM, continue to turn the curb idle screw until
proper fast idle speed is reached (See Fig.  53).
8.    Before  shutting  off  engine  back  out  curb  idle  screw  until
engine speed is reduced to curb idle speed to prevent engine
dieseling.  Shut off engine (See Fig.  42).
9.      Depress   accelerator   pedal   to   floor.      Close   choke   and
release accelerator pedal.
Figure   54      Adjusting   Fast   Idle   Screw   With   SE-1772-18
Wrench
10.    Reset  curb  idle  screw  until  it  lightly  contacts  the  inner
stop.    Turn  the  idle  screw  in  the  number  of  additional  turns
recorded (in Step 8) to reach proper fast idle speed setting.
11.    Adjust  fast  idle  screw  with  special  wrench  SE-1772-18
until the screw just contacts the fast idle cam (See Fig.  54).
Contact   is   established   when   visual   clearance   between   the
screw  and  the  cam  is  eliminated  or  when  the  throttle  lever
starts to move.
12.  To recheck adjustment, choke closed, back out idle screw
two turns and then reset screw until lightly contacting internal
stop.
13.  Open choke, start engine, proper engine RPM should now
be obtained.
14.  Repeat Step No.  9.
15.    Reinstall  spring  on  idle  speed  screw  and  install  screw
with spring.
16.    Reinstall  air  cleaner  and  adjust  proper  curb  idle  speed
(See Specifications).
Idle  Speed  and  Fuel  Mixture  Adjustment  Procedure  Without
Exhaust Analyzer (Speed Drop Method)
1.    Connect  tachometer  to  engine  (Tachometer  should  have
expanded scale of 400-800 RPM or 0-1000 RPM and 1%-2%
accuracy.)
2.  Turn idle mixture screw(s) "out" (counterclockwise) against
tab stop.
NOTE: If working with a unit rebuild which
has not had the idle limiter caps installed,
refer   to   specification   for   the   initial   idle
setting.
3.  Operate engine until thoroughly warmed up.
4.  Adjust idle speed screw to give engine speed higher than
specified idle speed.  (See "Specifications".)
5.      Turn   idle   mixture   screws   "in"   (clockwise)   slowly   and
equally  until  specified  idle  speed  is  obtained.    The  resulting
idle fuel mixture is optimum for exhaust emission control.
NOTE:  If  working  with  unit  rebuild,  install
idle limiter caps at this time.
6.  If engine runs rough after obtaining specified idle speed or
if specified idle speed cannot be obtained (per Steps 4 and 5),
it   will   be   necessary   to   remove   the   idle   limiter   caps   and
establish proper mixture screw setting as follows:
a.  Remove limiter caps.  To prevent damaging screw threads
or seat, file or grind away the side of the cap.  Do not pry cap
off.
b.    With  engine  operating,  adjust  mixture  screws  to  obtain
"lean best idle" at the specified idle speed.  ("Lean best idle" is
the point at which engine speed drops approximately 10 RPM
due to leanness.)
CGES-125-T  Page 36
PRINTED IN UNITED STATES OF AMERICA