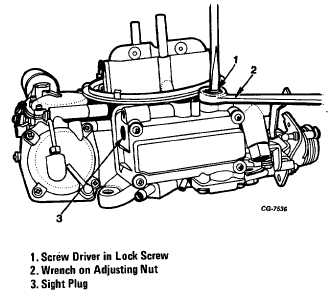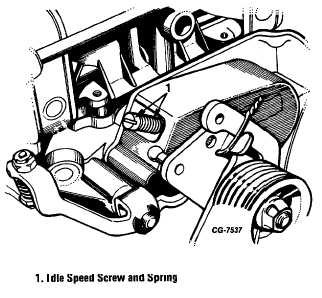 TRUCK SERVICE MANUAL
TM 5-4210-230-14&P-1
ADJUSTMENT PROCEDURE
If the fuel level is too high or low, install the sight plug, drain
the  fuel  bowl  by  loosening  one  lower  retaining  bolt  from  the
fuel  bowl  and  drain  the  fuel  into  a  suitable  container.    Install
the bolt and the fuel level sight plug and start the engine to fill
the  fuel  bowl.    Check  the  fuel  level  again  before  altering  the
float   setting.      This   will   eliminate   the   possibility   of   foreign
material causing a temporary flooding condition.
If the fuel level is still high or low, loosen the lock screw on the
top of the fuel inlet seat and turn the adjusting nut in or out to
correct  the  fuel  level.    1/6  turn  of  the  adjusting  nut  equals
approximately 3/64" in fuel level.  Remove the sight plug and
recheck  the  fuel  level.    Repeat  the  foregoing  procedure  until
the correct fuel level is obtained.
Figure 52  Adjusting Fuel Level
It     is     important     that     the     fuel     level     be     maintained     to
specifications,  as  the  fuel  level  is  a  part  of  the  carburetor
calibration.
CAUTION:
Do  not  loosen  the  lock  screw  or  attempt  to
adjust    the    fuel    level    with    the    sight    plug
removed   and   the   engine   running,   as   this
creates a fire hazard.
Fast Idle Adjustment
Idle  speed  and  fuel  mixture  settings  must  be  made  with  the
engine    at    normal    operating    temperature,    parking    brake
applied
and
choke
open.
See
"Specifications"
for
transmission shift selector position and air conditioner switch
settings.
When   making   carburetor   adjustments,   disconnect   vacuum
hose from vapor storage canister and plug end of hose.  After
idle adjustments have been made, remove plug and reconnect
hose  to  canister.    To  compensate  for  fuel  and  temperature
variations
when
setting
idle
mixture,
observe
these
precautions:
a.      Do   not   idle   engine   continuously   for   more   than   three
minutes at one time.
b.  After each three minutes of idling increase engine speed to
2000 RPM for one minute.
c.      Continue   with   idle   adjustment   procedure.      Do   not   idle
engine for more than three minutes without repeating Step "b".
It    is    imperative    that    the    precautions    outlined    above    be
followed   on   engines   equipped   with   road   speed   controlled
spark  advance  systems  where  extended  idling  could  permit
sufficient  increase  in  engine  coolant  temperature  to  activate
high   temperature   vacuum   control   valve   and   thereby   affect
engine timing and idle speed.
Fast idle adjustment is performed as follows:
1.  Shut off engine, remove air cleaner, connect tachometer of
known accuracy.
2.      Depress   accelerator   pedal   to   floor.      Close   choke   and
release accelerator pedal.
3.    

Remove  curb  idle  stop  screw  and  spring,  reinstall  idle
stop screw without spring (See Fig.  53).
Figure 53  Curb Idle Speed Screw and Spring
CGES-125-T  Page 35
PRINTED IN UNITED STATES OF AMERICA