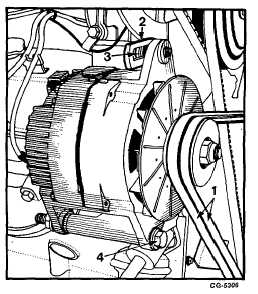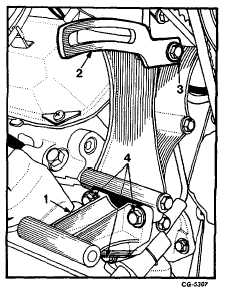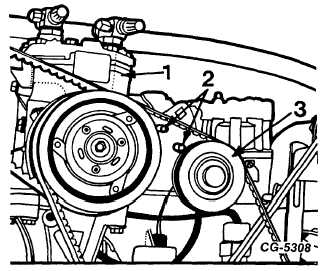 ENGINE DIVISION SERVICE MANUAL
TM 5-4210-230-14&P-1
ENGINE
Fig.  12 Removing Air Compressor Bracket
1

.  

Bolts
2

.  

Bracket
Fig.  13 Removing Alternator V-Belts
1

.  

V-belts
3

.  

Bolts
2

.  

Adjusting strap
4

.  

Mounting bolt
10.
Loosen   bolts   on   freon   compressor   idler   pulley   and
remove  V-belt,  Figure  15

.   

Remove  bolts  and  remove
idler pulley.
11.
Remove  hoses  to  left  and  right  cylinder  head  check
valves from the air pump, if so equipped

.   

Remove air
pump adjusting strap bolt and flat washer and air pump
mounting  bracket  bolt,  nut  and  flat  washer,  Figure  16

.
Remove air pump

.
Fig.  14  Removing Alternator Brackets
1

.  

Bracket
3

.  

Bolt
2

.  

Adjusting Strap
4

.  

Bolts
Fig.  15  Removing Freon Compressor V-Belt
1

.  

Freon compressor
3

.  

Idler Pulley
2

.  

Bolts
CGES-210  Page 11
PRINTED IN UNITED STATES OF AMERICA