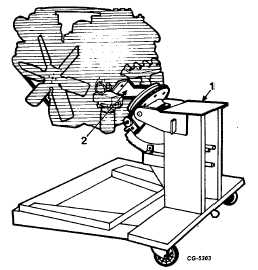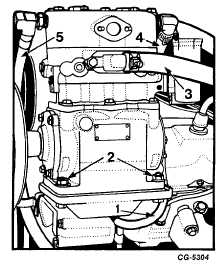 ENGINE DIVISION SERVICE MANUAL
TM 5-4210-230-14&P-1
ENGINE
Connect  the  battery  ground  strap  and  fill  the  cooling
system to the specified level

.   

Fill  the  engine  crankcase  with
specified    engine    oil    to    the    proper    level

.        

Refer    to    the
Operator's Manual for this information

.   

However, if equipped
to  prime  the  lubricating  system,  refer  to  "Lubrication  System
Priming" and follow the procedure described.
Check  accessory  and  pulley  drive  belts  and  adjust  if
necessary.
Start  engine  and  operate  all  controls  through  their  full
range to check for proper adjustment.
Inspect  all  hose  connections  for  coolant  leaks  and  air
connections for air leaks.
ENGINE DISASSEMBLY
Install  the  engine  in  the  SE-1962  Overhaul  Stand  with
mounting plate, Figure 10.
Fig.  10  Engine Installed in SE-1962 Overhaul Stand With
Mounting Plate
1

.  

Engine stand
2

.  

Mounting plate
NOTE:    Use  of  this  overhaul  stand  permits  raising  or
lowering  (vertical  to  horizontal  position)  the  engine  as
required  to  permit  rotating  the  engine  360

°
and  is  held
securely in any of the eight positions provided 

.  

However,
before  engine  rotation  is  performed,  it  is  recommended
the   engine   be   stripped   of   as   many   components   as
possible    to    eliminate    excessive    weight    and    provide
clearance

.  

The engine can be raised in a vertical position
over  the  pedestal  of  the  stand  and  the  pin  released  and
crankcase   rotated   and   locked   in   any   one   of   the   eight
positions.
1.
Make sure all oil and water have been drained from the
cylinder block.
2.
Remove fan blade with spacer and front engine mount.
3.
Disconnect  water  inlet,  water  outlet,  air  inlet  and  oil
feed lines from air compressor, Figure 11.
Fig.  11 Air Compressor Removal
1

.  

Oil feed line
4

.  

Water inlet line
2

.  

Nuts
5

.  

Water return line
3

.  

Air inlet line
4.
Loosen   four   nuts   on   bracket   and   slide   compressor
inward,  Figure  11

.     

Remove  V-belt  and  water  pump
front pulley.
5.
Remove nuts, bolts and flat washers from bracket and
remove  air  compressor  with  gasket

.     

Remove  water
inlet and outlet hoses.
6.
Remove
bolts
and
lockwashers
securing
air
compressor bracket to the engine, Figure 12

.   

Remove
bracket with "O" ring.
7.
Loosen   alternator   adjusting   strap   bolt   and   mounting
bolt, Figure 13

.  

Remove two V-belts.
8.
Remove  alternator  adjusting  strap  bolt  and  mounting
bolt with flat washers

.  

Remove alternator from bracket.
9.
Remove   alternator   bracket   and   adjusting   bracket   by
removing bolts and flat washers, Figure 14

.
CGES-210  Page 10
PRINTED IN UNITED STATES OF AMERICA