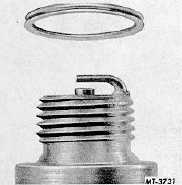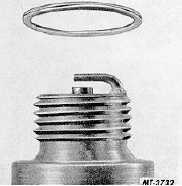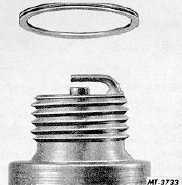 TRUCK SERVICE MANUAL
TM 5-4210-230-14&P-1
ELECTRICAL
REMOVAL
When   removing   the   spark   plugs   from   the   engine,
certain items should be remembered:
1.
When  disconnecting  ignition  cables  from  spark  plugs,
do  not  pull  on  cables  but  grasp  the  cable  boot  and
carefully    pull.        To    pull    on    cable    may    break    the
conductor in the resistor-type cable.
2.
Observe    location    and    routing    of    cables    to    avoid
incorrect installation.  Special attention should be given
in  routing  spark  plug  cables,  as  cross  fire  (carburetor
spit-back),  rough  operating  engine,  or  short  plug  life
will result if incorrect wire routing is encountered.  If an
engine is suspected of incorrect wire routing, compare
wires with an engine which is known to be correct.
NOTE:
Cross   fire   is   most   likely   to   occur   on   a   V8
engine  between  consecutively  firing  cylinders
when these cylinders are located on the same
bank.
3.
After loosening each plug about two turns, blow out any
accumulation   of   dirt   around   the   base   of   plugs   with
compressed   air.      This   prevents   debris   falling   into
cylinder
combustion
chambers
when
plugs
are
removed.
INSPECTION
Discussed in the following paragraphs are various instructions
pertaining  to  different  spark  plug  appearances  and  possible
causes of their defects.
Preliminary
Examination
If     spark     plugs     in     question     reveal     cracks,     worn
electrodes  or  other  obviously  unsatisfactory  conditions,  they
should not be used again.
Gaskets
If the spark plug gaskets are not compressed, Fig.  1, it
is    an    indication    that    the    plugs    have    not    been    properly
tightened   to   prevent   blow-by   between   the   spark   plug   and
cylinder  head.    This  condition  results  in  excessive  burning  of
the   electrodes   and   overheats   the   insulator   tip,   which   may
cause preignition.
If  the  gaskets  are  flattened  or  compressed  to  a  point
where they have become distorted (out of round) or torn, Fig.
2, it is an indication that the spark plugs have been tightened
to the extent that damage may have been inflicted on the plug
itself.
Excessive torque will cause strain on the steel shell of
the  spark  plug  and  result  in  cracked  insulators,  distortion  of
metal shell
and   gap   setting,   as   well   as   blow-by   between   the
component parts of the plug.
If   the   gasket   is   properly   compressed   (approximately
one-half of the original thickness) showing a flat, clean, even
surface, Fig.  3, it indicates that the spark plugs were properly
installed.
Spark
Plug
Appearances
Deposits normally occur in distinct bands on insulator.
The tip deposits near the electrodes are the ones which may
affect   spark   operation.      If   they   become   conductive,   their
"shunt   resistance"   is   said   to   drop,   and   the   plug   is   short
circuited.
Fig.  1  Not Properly Tightened (Gasket Not
Compressed)
Fig.  2  Overtightened (Gasket Distorted)
Fig.  3  Properly Torqued
CTS-2016-J  Page 3
PRINTED IN UNITED STATES OF A MERICA