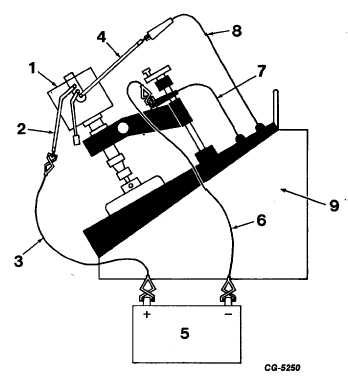 ENGINE DIVISION SERVICE MANUAL
TM 5-4210-230-14&P-1
Fig. 9 Distributor-To-Test Stand Wiring
1.
Distributor
4.
Brown Wire
7.
Test Stand Ground Lead
2.
Red Wire
5.
12 Volt Battery
8.
Test Stand Distributor Lead
3.
Jumper Wire
6.
Jumper Wire
9.
Distributor Test Stand
4.
Connect one jumper wire from battery negative (-) post
to test stand ground stud.
5.
Connect   other   jumper   wire   from   battery   positive   (+)
post  to  ring  connector  on  red  distributor  lead.    Test
stand and distributor are now ready to make distributor
operation test. (Refer to Operation Test Procedure.)
Operation
Test
Procedure
1.
Mount  distributor  in  test  stand  and  connect  test  leads
as outlined in

Preparation

of

Distributor

Test

Stand

.
2.
Calibrate   test   stand   dwell   meter   per   manufacturers
instructions.
3.
Operate   distributor   at   300   RPM   (with   12-13   volts
primary input) and observe dwell reading.  Dwell should
be     within     specified     limits     (see     Distributor     TEST
SPECIFICATIONS).      If   dwell   is   not   within   specified
limits, check trigger wheel-to-sensor air gap.
4.
Check trigger wheel tooth accuracy as follows:
CGES-145-U  Page 7
PRINTED IN UNITED STATES OF AMERICA