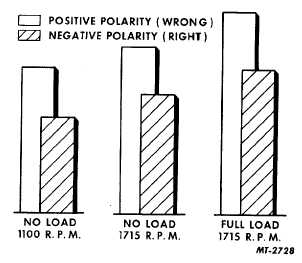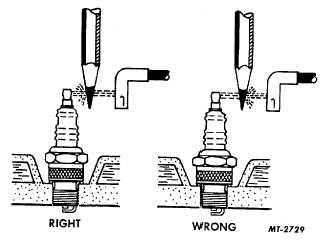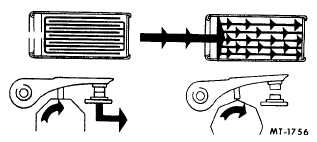 TRUCK SERVICE MANUAL
TM 5-4210-230-14&P-1
ELECTRICAL
Fig. 5 Chart Showing Extra Voltage Required When Polarity Is
Reversed
For  a  time,  the  engine  may  run  fine  with  coil  polarity
reversed--until  the  spark  plugs  have  been  in  use  for  some
time.      Then,   the   driver   may   encounter   hard   starting   or
misfiring under load, as the amount of voltage required to fire
the  spark  plugs  under  these  conditions  is  higher  than  at  any
other time.
In   view   of   the   above,   it   is   very   important   that   coil
polarity   should   always   be   such   that   negative   current   is
supplied to the spark plug terminals.
CHECKING FOR REVERSED POLARITY
A   quick   and   easy   method   in   checking   for   reversed
polarity is the use of an ordinary wooden pencil, Fig. 6.  Using
the  wooden  pencil-check  method,  remove  an  ignition  cable
from any one of the spark plugs.  Then, place the graphite tip
of  the  pencil  between  the  spark  plug  terminal  and  the  cable
and  observe  the  spark  as  it  jumps  across  the  gap.    If  you
notice the spark flaring or having an orange tinge on the spark
plug side of the pencil, polarity is correct.  If it flares or has a
tinge on the cable side, polarity is reversed (be sure to use a
wooden  pencil  when  making  this  check  or  an  uncomfortable
shock  may  be  received  from  the  spark  plugs).    NOTE:  The
above check is used particularly on those coils not having any
markings  on  the  coil  terminals.    All  coils  recommended  and
used   by   the   International   Harvester   Company   are   properly
marked.
NOTE: When checking for reversed polarity, always be
certain that the spark plugs are correctly gapped and in good
condition.
Fig. 6 Method of Checking for Reversed Polarity
CONDENSERS
The condenser which is mounted inside ignition system
distributor  prevents  arcing  of  distributor  points  when  points
begin  to  open  by  providing  a  place  for  current  to  flow  until
points  are  safely  separated.    This  requires  special  insulating
between the two foil sheets which store current flow and bring
it to a quick controlled stop, Fig. 7.
Fig. 7 Action of Current on Condenser
Ignition  failures  of  a  few  years  back  were  often  the
result   of   condenser   breakdown.      Subsequent   investigation
proved   that   internal   moisture   was   responsible.      With   the
adoption of pre-dried insulating paper and hermetic sealing in
recent    years,    condenser    breakdown    has    been    practically
eliminated.    Condenser  can  is  crimped  against  outer  gasket
and this compresses a spring at bottom of can with 40 pounds
pressure  to  effectively  seal  inner  and  outer  gasket  surfaces,
Fig.  8.    Pressure  feature  provides  vibration-free  connections
which   lessen   the   possibility   of   high   series   resistance   in
condenser assembly.
CTS-2013-E  Page 6
PRINTED IN UNITED STATES OF AMERICA