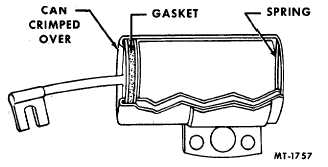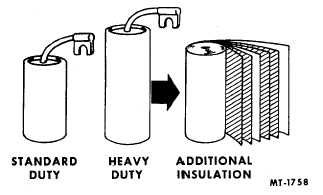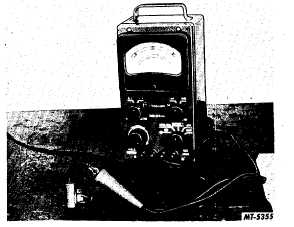 TRUCK SERVICE MANUAL
TM 5-4210-230-14&P-1
ELECTRICAL
Fig. 8 Construction of Condenser
Heavy-duty
condensers
require
more
insulation
between  foil  sheets  of  the  winding.  Since  heavier  insulation
also increases the distance between foil sheets, more foil area
is needed to obtain the same capacity.  This is accomplished
by using a larger assembly, Fig. 9.
Fig. 9 Comparison Between Standard and Heavy-Duty
Condenser
The quality of insulation in a condenser is checked on a
scale reading in megohms (a megohm is one million ohms).
When all moisture is eliminated in assembly and windings are
hermetically sealed, insulating quality or dielectric strength of
insulation  between  foil  sheets  will  be  high.    If  moisture  is
present in a condenser, insulation is low and may be said to
be weak.  A condenser having a resistance below 2 megohms
when hot will drain sufficient
energy from ignition system to cause engine missing.
Series  resistance  in  a  condenser  is  usually  caused  by
loose or corroded connections. High series resistance causes
a  condenser  to  be  slow  in  taking  a  charge  and  results  in
higher  voltage  at  the  separating  contact  points.  Arcing  and
rapid   wear   of   contacts   along   with   engine   missing   during
starting  and  low  speed  operation  may  be  indications  of  this
condition.
Capacity of most ignition condensers used on IH trucks
is  approximately  .20  microfarads.  This  value  is  controlled  by
the    area    and    closeness    of    the    foil    sheets.        Standard
condensers have two sheets of insulation assembled between
foils,
making
a
short
container
possible.
Heavy-duty
condensers have three sheets of insulation between foils and
because of the greater foil area required, are housed in longer
containers.
CONDENSER TESTS
To   test   an   ignition   condenser,   a   special   condenser
tester   must   be   used,   Fig.   10.      Such   a   tester   will   check
condenser for insulation breakdown, low insulation resistance,
high  series  resistance  and  capacity.    All  four  of  these  are
characteristics which affect ignition performance.
Fig. 10  Condenser Tester
CTS-2013-E  Page 7
PRINTED IN UNITED STATES OF AMERICA