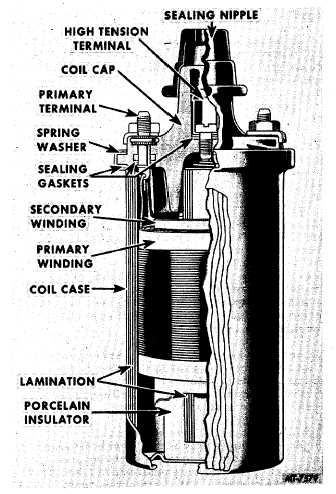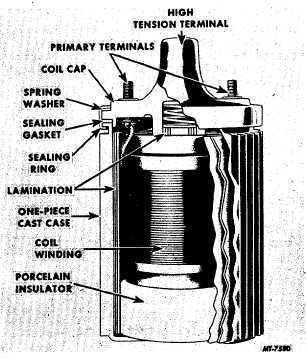 TRUCK SERVICE MANUAL
TM 5-4210-230-14&P-1
ELECTRICAL
DESCRIPTION
The  ignition  coil  is  a  pulse  transformer  that  steps  up
the   low   battery   or   alternator   voltage   to   the   high   voltage
necessary  to  jump  the  gaps  at  the  spark  plugs  in  the  engine
cylinders. This voltage may reach as much as 20, 000 volts in
some installations.
The ignition coil, Figs. 1 and 2, contains three essential
parts: a primary winding consisting of a few hundred turns of
relatively heavy wire, a secondary winding consisting of many
thousand turns of very fine wire, and laminated soft iron which
serves to concentrate the magnetic field.  The primary winding
is  assembled  around  the  outside  of  the  secondary  winding,
and   the   laminated   iron   is   distributed   so   that   one   portion
serves as a core for the windings and the remainder as a shell
around  the  entire  subassembly.    This  subassembly  is  then
placed in the coil case and the remaining. space nearly filled
with  insulating  compound  :r  oil  and  the  coil  cap  assembled
into place.
Fig. 1  Steel Encased Coil (Cutaway View)
IGNITION COIL TYPES
There are a variety of ignition coils for various types of
operation,  with  each  type  of  coil  being  supplied  in  several
models,  each  designed  to  incorporate  a  specified  winding  to
make  it  suitable  for  operation  with  a  particular  engine  under
specific operating conditions.
Fig.  1  illustrates  an  oil-filled  and  hermetically  sealed
ignition   coil   housed   in   a   one   piece   steel   case.      Hermetic
sealing of the ignition coil prevents the entrance of moisture,
which would ultimately cause coil failure.  Moisture may enter
an   unsealed   coil   either   directly   in   the   form   of   rain,   snow,
washing water, steam and so forth, or through the "breathing"
action of the coil itself.  Unless a coil is hermetically sealed, it
will  expel  air  when  heated  and  will  draw  in  outside  air  when
cooled.  This is the action termed "breathing", and it results in
a gradual accumulation of water in the coil interior because of
the  condensation  of  water  vapor  from  the  incoming  air.    In
addition to hermetic sealing, the coils are also filled with oil to
impart  high  dielectric  strength  to  the  insulation,  thus  further
reducing   the   possibility   of   insulation   breakdown   and   coil
failure.
Fig. 2 illustrates a heavy-duty oil-filled and hermetically
sealed  ignition  coil  housed  in  a  one  piece  diecast  aluminum
case.    The  fins  cast  in  the  case,  plus  the  oil  filling,  permit
improved  heat  radiation,  which  is  a  factor  in  efficient  ignition
coil performance.
Fig. 2  Diecast Encased Heavy-Duty Coil (Cutaway View)
CTS-2013-K  Page 3
PRINTED IN UNITED STATES OF AMERICA