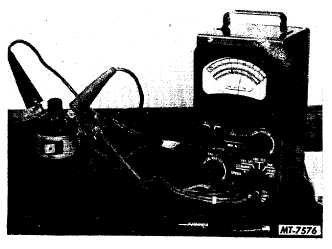 TRUCK SERVICE MANUAL
TM 5-4210-230-14&P-1
ELECTRICAL
The coil used with the transistor ignition system has the
outward  appearance  of  a  standard  coil;  however,  it  contains
special   high   ratio   windings   that   produce   higher   secondary
voltage at all engine speeds.
COIL SERVICE
Ignition coils do not normally require any service except
to  keep  all  terminals  and  connections  clean  and  tight.    In
addition, the coil should be kept reasonably clean, but it must
not    be    subjected    to    steam    cleaning    or    similar    cleaning
methods which may cause moisture to enter the coil unless it
is of the hermetically sealed type.  Rubber nipples on the high
voltage   terminals   are   valuable   in   preventing   "tracing"   or
leakage of current across exposed surfaces.
If poor ignition performance is obtained, and the coil is
suspected  of  being  the  cause,  the  coil  may  be  tested  on  the
truck or it may be removed for the test.
COIL TESTS
Various types of testing instruments are used in testing
ignition   coils.      One   of   these   makes   use   of   an   open   or
protected  spark  gap,  while  another  reports  the  coil  condition
on a meter or scope.  This second type of tester is usually so
designed  as  to  permit  testing  of  the  coil  without  making  any
connection to the secondary terminal.  This eliminates certain
variables    caused    by    altitude,    atmosphere    or    spark    gap
electrode conditions.
The
spark
gap
tester
should
always
be
used
comparatively.    That  is,  a  coil  known  to  be  good  should  be
compared with the questionable coil.  Both coils should be at
same temperature and identical test leads must be used.
Fig. 3  Coil Tester
Before the testing instrument is used, a lamp and test
point  should  be  applied  to  check  coil  for  open  or  grounded
circuits.  To test for an open primary circuit, put test points on
the  two  primary  terminals.    If  lamp  does  not  light,  primary
circuit is open.  To check secondary circuit, put one test point
in  high  tension  terminal  and  the  other  at  one  of  the  primary
terminals.  Lamp will not light, but tiny sparks   will be noted
as test points are rubbed over terminals if secondary winding
is not open.  If secondary is open, no sparks will occur.
Most ignition coils can be tested for grounded windings
by   placing   one   test   point   on   a   clean   part   of   the   metal
container  and  touching  the  other  point  to  primary  and  high
tension terminals.  If lamp lights or tiny sparks appear at the
points of contact, windings are grounded.
NOTE

:  This test does not apply to secondary windings
of   coils   used   on   insulated   or   two:   wire   electrical   systems,
since   these   coils   have   one   end   of   the   secondary   winding
grounded to metal container.  The primary winding of this type
of coil, however, may be checked for ground.
When   using   a   meter-type   coil   tester   to   test   a   coil
without removing it from the vehicle, be very careful to avoid
touching   tester   case   to   truck.      Many   such   testers   have   a
ground  connection  to  the  case,  touching  case  to  truck  would
produce  a  short  circuit  and  possible  serious  damage  to  the
equipment.
Details  of  the  testing  procedures  and  the  manner  in
which   various   testers   are   used   will   be   found   in   the   tester
operating instructions.
TWELVE-VOLT SYSTEM
The coil used with the 12-volt system, Fig. 4, has more
turns of wire in both the primary and secondary windings and
a  higher  ratio  between  windings  than  in  6-volt  coils  of  same
size.      The   increased   number   of   turns   in   primary   winding
results in a higher inductance in this winding, which makes it
possible for coil to provide a higher secondary voltage output
throughout the speed range.
In    order    to    improve    ignition    performance    during
cranking,  an  ignition  resistor  is  used  with  the  12-volt  ignition
coil.  This external resistor is connected in series with primary
circuit between battery and coil.
Ignition   resistor   is   wound   with   wire   which   changes
resistance  only  slightly  with  temperature.    This  characteristic
prevents  excessive  primary  current  at  low  temperatures,  and
thus  reduces  the  tendency  for  distributor  contact  points  to
oxidize during cold weather.  To
CTS-2013-E  Page 4
PRINTED IN UNITED STATES OF AMERICA