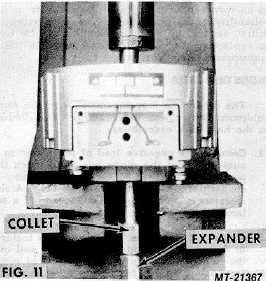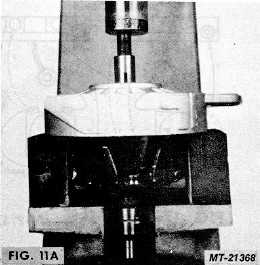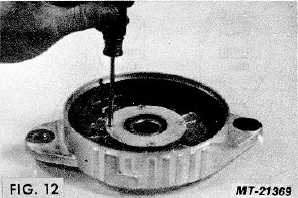 TRUCK SERVICE MANUAL
TM 5-4210-230-14&P-1
ELECTRICAL
17.      Remove   four   screws   and   bearing   retainer   and   press
bearing out of drive end housing (see Fig.  12).
COMPONENT TESTING
Before  performing  these  tests,  carefully  inspect  all
parts for wear, cracks, breakage or other mechanical defects.
Discard all damaged parts.
DIODE TESTS
These     tests     may     be     performed     on     heat     sink
assemblies  without  removing  them  from  the  end  housing.    If
they are tested in this manner, remove the stator and be sure
that   the   red   and   black   leads   are   disconnected   from   the
regulator and not touching each other.  Be sure the diode trio
has  been  removed  from  the  A/C  studs  and  disconnect  the
capacitor across the lower end of the heat sinks.
Diodes   are   tested   to   insure   that   they   only   pass
current in one direction.  Diodes which do not allow current to
flow in either direction are open while diodes passing current
both  ways  are  shorted.    Diodes  should  be  checked  with  a
diode  tester,  but  in  emergencies  where  one  is  not  available,
an ohmmeter or battery powered test light may be substituted.
Positive Heat Sink Tests:
The positive heat sink is the one to which the positive
output terminal is connected.  The square hole in the terminal
end of the positive heat sink is larger than the terminal hole of
the negative heat sink.
1.  Connect the positive lead of the diode tester, ohmmeter, or
test light to the positive heat sink and touch the negative
test  lead  to  each  of  the  three  diode  terminals.    A  high
resistance should be indicated and if a test light is being
used, it should not light.  If any of the three diodes shows
a  low  resistance,  or  the  test  lights,  the  diode  is  shorted
(see Fig.  13).
2.    Reverse  the  test  leads  so  that  the  negative  test  lead  is
connected to the positive heat sink.  The positive test lead
should now be touched to each diode terminal and a low
resistance    reading    should    be    obtained.        If    a    high
resistance  reading  is  obtained,  or  the  test  lamp  fails  to
light, an open diode is indicated.  (See Fig.  14.)
CTS-2743T  Page 7
PRINTED IN UNITED STATES OF AMERICA