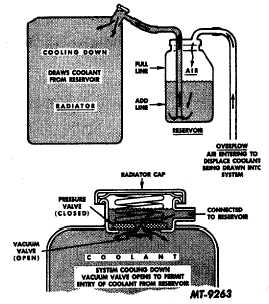 TRUCK SERVICE MANUAL
TM 5-4210-230-14&P-1
COOLING SYSTEM
Fig.  6  System Cooling Down
For  special  filling  of  this  type  cooling  system,  refer  to
MAINTENANCE Section in this manual.
B.  ENGINE WATER JACKET
The water jacket permits coolant to be circulated around
the cylinder walls, combustion chamber and valve assemblies.
Some   of   the   coolant   passages   are   small   and   can   become
clogged   if   the   cooling   system   does   not   receive   the   proper
maintenance.
Close inspection should be given to the following areas:
1.
Core
Plugs
-These  are  sometimes  mistakenly  termed
"freeze  plugs".    The  plugs  are  present  due  to  engine
block   casting   methods   and   not   to   protect   against
expansion  from  freezing.    Core  plugs  that  show  signs
of leaking or rusting through should be replaced. Refer
to respective Engine Manual for core plug replacement.
2.
Drain
Plugs
-The drain plugs located in the water jacket
should receive seasonal care and kept free of rust and
scale.
3.
Gaskets
-Must   be   in   good   condition   to   prevent   both
internal  and  external  leaks.  If  there  are  external  leaks
around  gaskets,  there  may  also  be  internal  leaks  into
the engine.  Proper tightening of the head bolts with a
torque wrench is essential for preventing leaks around
the head gasket.
C.  WATER PUMP
The   water   pump   circulates   the   coolant   through   the
cooling  system.    It  should  be  checked  carefully  for  leaks  and
proper lubrication and if leaking or in bad condition, it should be
rebuilt  or  replaced  promptly.    For  water  pump  rebuild,  refer  to
respective Engine Manual.
D.  FAN AND BELTS
The  fan  should  be  checked  for  loose  or  bent  blades.    A
loose    blade    could    work    free    during    operation    and    cause
damage.  A bent blade will reduce the fan's efficiency.
Fan belts must be adjusted for proper tension.  Refer to
respecting Engine Manual or Operator's Manual for proper belt
tension.
E.  THERMOSTAT
Thermostats  provide  a  means  of  retarding  or  restricting
the    circulation    of    coolant    during    engine    warm-up.        An
inoperative   thermostat   can   cause   engine   overheating   and   a
subsequent  loss  of  coolant.    Thermostats  can  be  tested  by
submerging  in  hot  water  and  noting  the  opening  and  closing
temperature.    Use  an  accurate  high  temperature  thermometer
for making this test.  Refer to Engine Manual for proper opening
and closing temperatures.
F.  HOSES AND CLAMPS
Hoses  and  clamps  should  be  checked  regularly  as  they
are  often  the  source  of  hidden  trouble.    Hoses  may  appear  in
good  condition  on  the  outside  but  the  inside  may  be  partially
deteriorated.  If there are any doubts about a hose doing its job,
replacement  should  be  made.  Clamps  should  be  inspected  to
ensure they are strong enough to hold a tight connection.
G.  TRANSMISSION OIL COOLER
On   some   trucks   equipped   with   automatic   or   semi-
automatic   transmissions,   the   transmission   oil   is   circulated
through  an  oil  cooler  or  heat  exchanger.    The  function  of  this
unit is to control transmission temperature and thereby keep oil
in the proper temperature range for its most efficient lubrication.
This     is     accomplished     by     using     engine     heat     to     bring
transmission temperature up or by using the cooling system to
dissipate any excessive heat generated within the transmission.
Leakage due to corrosion or an improper seal will cause
contamination between the cooling system and transmission.
CTS-2019P  Page 7
PRINTED IN UNITED STATES OF AMERICA