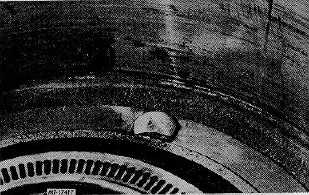 TRUCK SERVICE MANUAL
TM 5-4210-230-14&P-1
BRAKES-HYDRAULIC
Before  installing  a  replacement  drum  wash
the   drum   thoroughly   with   high   grade   denatured   alcohol   to
remove  

all

 protective  grease,  oil  or  other  residue.  

DO

 

NOT
use
gasoline,
mineral
spirits
or
oil
.
In   most   situations   replacement   drum,   whether   for
previously speed nut retained type or swaged-on type, can be
secured with the speed nuts (Fig.  20).  However, if swaging is
desired, recommended procedure is as follows.
1.
Obtain  appropriate  size  peen  punch  (SE-855-7  for
1/2" stud; SE-1103 for 9/16" stud).
2.
Position new drum over studs in hub and temporarily
fasten   it   against   hub   flange   by   placing   oversize
washer  over  three  studs  and  tightening  wheel  nuts
against them.
3.
Using peen punch over stud, align stud and drum in
press  with  stud  properly  supported.  Press  the  stud
shoulder in place against drum.
4.
Repeat pressing operation on next open stud.
5.
Reposition   washers   and   repeat   pressing   operation
until all studs have been swaged.
6.
To  assure  hub  and  drum  concentricity,  take  a  light
machining cut on drum in drum lathe.
When  assemblying  hub  and  drum  together  on  medium  and
heavy duty vehicles, pay special attention to the bolt heads so
that they are ,aligned properly in the drum (Fig.  22).
Fig.    22    Drum Bolt Alignment
Refer  to  Torque  Chart  for  Bolt  Tightening  sequence
and  proper  torque  values  of  hub  to  drum  mounting  bolts  as
well as rim and wheel mountings.
CTS-2779  Page 10
PRINTED IN UNITED STATES OF  AMERICA