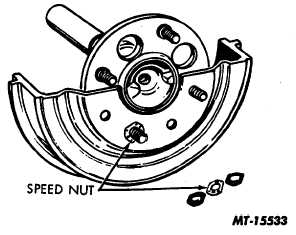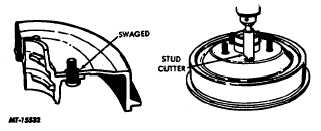 TRUCK SERVICE MANUAL
TM 5-4210-230-14&P-1
BRAKES-HYDRAULIC
The  terms  micrometres,  micro-inch  or  surface  finish
or   smoothness   are   different   from   runout   and   parallelism.
These terms refer to degree of how smooth the flat surface is.
However,  if  good,  sharp  tools  and  proper  cutting  feed  and
speed  are  used  when  remachining  the  rotor,  you  should  be
within
the
.381-2.032
micrometres
(15-80
micro-inch)
tolerances.
INSPECTION OF PADS
The  disc  brake  pads  or  shoes  can  be  inspected  for
wear on the vehicle.  It is normal for the inboard lining to show
more wear than the out board lining.  Always install new pads
assemblies in complete axle sets at both wheels on an axle.
Since   lining   on   disc   brakes   will   be   bonded   (code
04135)   and   riveted   (codes   04138,   04139   &   04140)   the
useable thicknesses will be different.
Pads   with   

bonded

  lining   (code   04135)   must   be
replaced when lining is worn to .7937 mm (1/32 in.) or less.
Pads   with   

riveted

  lining   (codes   04138,   04139   &
04140)   must   be   replaced   when   lining   is   worn   to   3.1750-
4.7625 mm (1/8 to 3/16 in.) or less.
It  is  suggested  that  the  pads  be  replaced  whenever
they  are  removed  for  an  inspection  or  for  any  other  service
and  they  are  found  to  be  worn  to  2.778  mm  (7/64  in.)  from
shoe  surface  with  bonded  material,  or  from  rivet  heads  to
brake lining surface.
DRUM REPLACEMENT
Different  assembly  methods  are  used  to  hold  brake
drums   in   their   piloted   position   on   hub   while   wheels   are
dismounted.
LIGHT DUTY VEHICLES
Drums  which  are  mounted  against  wheel  flange  on
light duty vehicles are secured to studs either with speed nut
fasteners   or   by   swagging   the   piloting   shoulder   of   stud   to
drum.  To replace an original drum proceed as follows:
Where

threaded

fasteners

(Fig.  20) are used simply
unthread speed nuts and lift drum from flange.
Fig.    20 Threaded Fastener Type Drum Mounting
If  

swaged

stud

mounting

(Fig.  21) is used, chuck a
stud cutter in an electric drill, align cutter over each stud and
cut away the swaged material.  Separate drum from hub and
discard drum.
Fig.    21 Swaged Stud Type Drum Mounting
MEDIUM AND HEAVY DUTY VEHICLES
Drum    replacement    on    medium    and    heavy    duty
vehicles requires the removal of nuts from bolts securing hub
and    drum    together.        The    hub    and    drum    can    then    be
separated.
MOUNTING NEW DRUM TO HUB
Clean exposed hub or axle mounting flange with wire
brush  or  coarse  file.    Use  straight  edge  across  surface  of
flange to make sure it is not bent.  Remove excess paint from
edge of drum hub hole and wash rust preventive sealer from
drum with solvent.
CTS-2779  Page 9
PRINTED IN UNITED STATES OF AMERICA