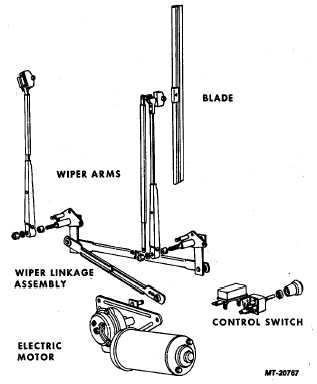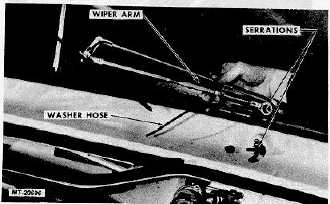 TRUCK SERVICE MANUAL
TM 5-4210-230-14&P-1
BODIES AND CABS
CHAPTER I
WINDSHIELD WIPER (ELECTRIC)
Fig. 1  Electric Windshield Wiper components
DESCRIPTION
The  standard  windshield  wiper  available  on  S-Series
Trucks is the electric cowl mounted dual wiper system shown
in Fig. 1.  Except for the control switch, which is mounted on
the   instrument   panel,   all   service   on   the   wiper   system   is
performed at front of cab.
OPERATION
When  control  switch  is  turned  to  "LO"  or  "HI"  wiper
speed is controlled accordingly. When control switch is turned
off,   wiper   blades   move   automatically   to   "park"   position   on
windshield (50 mm or 2 inches up from bottom of windshield).
Reciprocating  action  of  wiper  arms  results  from  rotation  of
drive lever on wiper motor.
IMPORTANT
Do  not  attempt  to  move  wiper  blades  through  their
arc by grasping wiper arm.  This action can damage
motor  internal  parts  or  bend  wiper  linkage.  Also,  if
blades   are   frozen   to   windshield,   do   not   operate
control switch until blades have been freed.
REMOVAL
Linkage
1.
Remove windshield washer hose from fittings on top of
cowl.
2.
Remove  wiper  blades  and  arms  (Fig.  2).    Do  not  lose
articulating rod end clip.
Fig. 2  Removing Wiper Arms
CTS-2732  Page 1
PRINTED IN UNITED STATES OF AMERICA