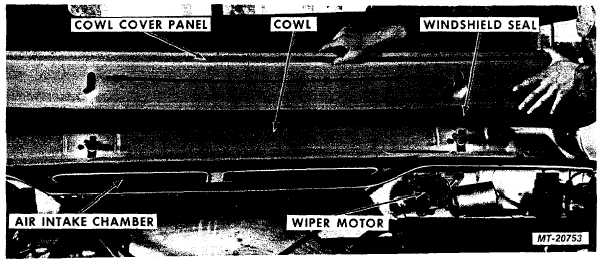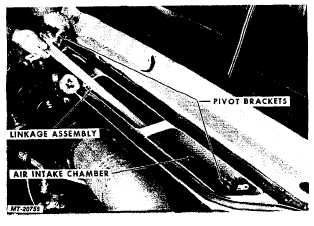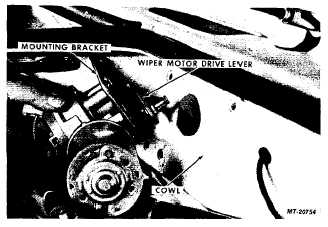 TRUCK SERVICE MANUAL
TM 5-4210-230-14&P-1
BODIES AND CABS
Fig. 3  Removing Cowl Cover Panel
3.
Remove seven mounting screws and detach cowl cover
panel from top of cowl (Fig. 3).
4.
Disconnect washer hose from fitting on bottom of cowl
cover panel.
5.
Reaching    into    cowl    air    intake    chamber,    unfasten
retainer   clip   from   wiper   motor   drive   lever   pin   and
detach linkage rod from drive lever.
6.
Remove  three  mounting  bolts  from  each  pivot  bracket
and  lift  out  complete  pivot  brackets  and  wiper  linkage
assembly from inside air intake chamber (Fig. 4).
Fig. 4  Removing Windshield Wiper Linkage Assembly
Electric
Motor
1.
Disconnect wiring harness from wiper motor.
2.
If  wiper  linkage  has  not  previously  been  disconnected
from  motor,  reach  into  cowl  air  intake  chamber  and
unfasten clip from wiper motor drive lever.
IMPORTANT
Where   motor   only   is   being   removed,   stop   wiper
blades  (with  key  switch)  at  their  opposite  to  "PARK"
position and loosen motor bracket to cowl mounting
bolts.  This  will  facilitate  detaching  of  wiper  linkage
from motor drive lever.
3.
Remove    wiper    motor    bracket    mounting    bolts    and
detach  motor  assembly.    Drive  lever  should  remove
through hole in cowl (Fig. 5).
Fig. 5  Removing Windshield Wiper Motor
CTS-2732  Page 2
PRINTED IN UNITED STATES OF AMERICA