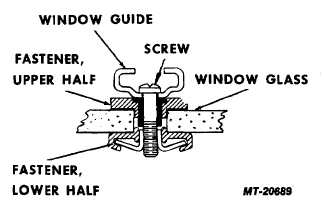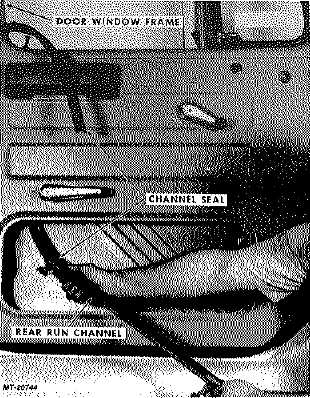 TRUCK SERVICE MANUAL
TM 5-4210-230-14&P-1
BODIES AND CABS
7.
Remove glass from front run channel.
8.
Pull glass out bottom of access opening (Fig.  13).
Fig.  13  Removing Or Installing Window glass
Install
1.
Insert   window   glass   through   access   opening   (Fig.
13).
2.
Enter glass into front run channel.
3.
Slide  rear  run  channel  and  channel  seal  onto  rear
edge of glass.
4.
Secure rear run channel retainer to upper and lower
mounting brackets with bolts and washers.
5.
When assured that glass will slide easily from top to
bottom in window channels, move window to lowered
position.
Fig.  14  Window Glass Fastener Cross Section
6.
Temporarily
install
regulator
handle
and
turn
regulator    lever    to    engage    with    bottom    edge    of
window.
7.
Install   window   guide   and   regulator   lever   stud   to
window glass using the two fastener assemblies (Fig.
14) through holes provided in glass.
8.
Operate
regulator
handle
to
make
sure
all
components have been assembled correctly.
9.
Reinstall access door.
Fig.  15  Removing Rear Run Channel and Seal
DOOR GLASS REAR RUN CHANNEL AND CHANNEL SEAL
The door glass rear channel seal (weather stripping)
is moulded for a compression fit in window frame as well as in
glass  rear  run  channel.    No  clips  are  required  to  retain  it.
Channel and seal are removed together.
Remove
1.
Remove  cab  door  glass  as  outlined  under  "DOOR
GLASS".    Glass  may  be  left  in  bottom  of  door  or
removed through access opening as desired.
CTS-2714  Page 11
PRINTED IN UNITED STATES OF AMERICA