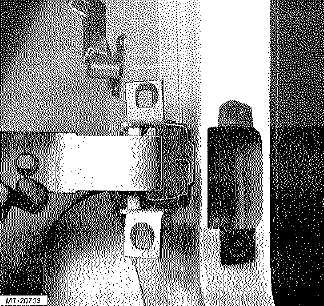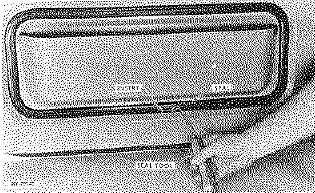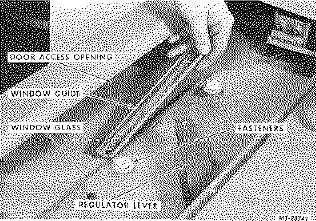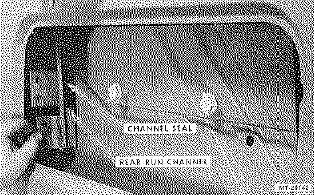 TRUCK SERVICE MANUAL
TM 5-4210-230-14&P-1
BODIES AND CABS
IMPORTANT
Flange   head   bolt   inside   pillar   can   best   be
removed  with  a  flex  socket.    Also  be  careful
when  extracting  bolt  so  as  to  avoid  its  loss
inside pillar.
Fig.  9  Removing Cab Door Hinge From Hinge Pillar
Install
Cab  hinge  and  door  installation  is  accomplished  by
reversing   the   foregoing   removal   procedures.      Before   final
tightening  hinge  mounting  bolts,  check  the  door  adjustment.
See CAB DOOR ADJUSTMENT for complete details.
DOOR GLASS
Remove
1.
Remove door trim as covered previously.
2.
Remove    rubber    insert    from    around    door    access
cover.    Use  blunt  nose  screwdriver  or  seal  tool  as
shown  (Fig.    10).    Lift  out  cover  and  remove  seal
from access opening.
3.
Lower window glass to bottom of its channel.
4.
Working   thru   access   opening   remove   two   glass
fastener screws from window guide and detach guide
from glass and window regulator lever (Fig.  11).
Fig.  10  Removing Access Panel From Door
Fig.  11  Removing Window Guide From Window Glass
Fig.  12.  Removing Rear Run Channel
5.
Remove button plug from side of door for access to
rear glass run channel upper retaining bolt.  Remove
bolt.
6.
Remove  two  retaining  bolts  from  lower  end of  glass
rear run channel.  Remove channel and channel seal
(Fig.  12) from glass and lay aside in door.
CTS-2714  Page 10
PRINTED IN UNITED STATES OF AMERICA